September 7, 2022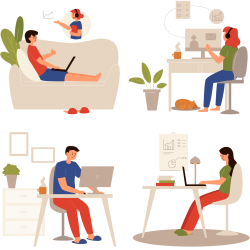 Two plus years after the onset of the pandemic and many employees are continuing to work remotely, either full or part-time. We know that the ability to work remotely increases employee happiness by as much as 20 percent, but employees will tend to work longer hours and are more likely to experience burnout. The debate over whether remote work is "better" than being in an office is reductive and misses critical nuances around hybrid work models.
Looking at what we now know, we've gleaned four main insights about remote work.
There is no one-size-fits-all when it comes to wellbeing.
According to recent research, employed remote workers are three times as likely to report mental health problems as they were before transitioning to remote work. Working from home has negatively impacted the well-being of people who thrive on and generate energy from being around others.
People have felt less connected and more alone.
Prior to the pandemic, the United States was already facing a loneliness crisis, and work was one consistent place where we could seek out and foster connections between people. When that was taken away, and we were truly isolated, it exacerbated that issue for many people.
The "found time" employees have experienced has fortified their wellbeing.
For employees – perhaps those with long commutes or young families – the "found" time from eliminating the commute opened up possibilities for activities that enhanced well-being. Plus, studies have shown that employee happiness increases as commute times decrease!
Flexibility is essential for geographically dispersed employees.
Flexible work attracts new talent, increases retention, and improves employee satisfaction. The key takeaway, as an employer, is the critical necessity of flexibility in how work schedules and locations are managed with employees.
Ultimately, remote work is the right fit for some and detrimental to others. We've found the most important factor in any remote working environment is clear and consistent communication between employers and employees. COVID-19 taught us the importance of internal communications, which remains critical for businesses navigating global issues with a remote employee base.
Strong internal communication helps to bridge the virtual gap, promote employee wellness, increase retention, cultivate connection, facilitate change, and overall benefit company culture. Developing a foundational understanding of your employees' needs is the first and most important step to ensure a strong and healthy culture, whether in-office or fully remote.
Sara Whitman is Chief People Officer and Isabel Conrad is Internal Communications Specialist at Hot Paper Lantern.