September 10, 2015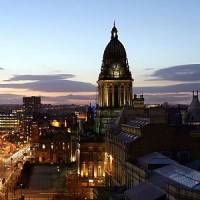 The recent growth in prime headline office rents has continued across the UK's regional commercial  property markets with an average increase of 4.3 percent across the UK's 'Core 8' markets in the 12 months to June 2015, according to a report from property consultants JLL. The Core 8 cities are the UK's largest metropolitan economies and are a distinct group from the Government's definition of core cities. In the JLL study they comprise Birmingham, Bristol, Leeds (above), Manchester, London, Cardiff, Edinburgh and Glasgow. Reflecting the solid outlook for demand and tight supply of new space, the report claims that headline rents are expected to continue on an upward curve with average growth of 2.9 percent per year in the Core 8 region over the period. One of the key drivers for rent growth remains a mismatch between demand and supply.
According to JLL's report office take­up across the Core 8 regional commercial property markets reached 3.8 million sq ft in the first half of 2015 and is forecast to exceed last year's full year total of 7.3 million sq ft, well ahead of the 10­year average of 6.6 million sq ft. Manchester and Birmingham dominated activity, accounting for 677,000 sq ft (18 percent) and 650,000 sq ft (17 percent) of take­up respectively
The falling supply of good quality office space remains a key theme according to JLL. Available office space across the Core 8 markets stands at 19.5 million sq ft with an average overall vacancy rate of 8.2 percent, down from 9.1 percent over the year. The Grade A vacancy rate is just 2.4 percent on average, with Leeds and Cardiff the lowest at 1.5 percent and 1.3 percent respectively.
JLL's report claims that total pre­leasing jumped sharply in the first half of the year to 837,000 sq ft across 14 transactions in comparison to 138,000 sq ft across five deals in the whole of 2014. 5.36 million sq ft is currently under construction speculatively across the Core 8 in 58 schemes, which compares to just 3.3 million sq ft in the first half of 2014.
Jeremy Richards, Head of National Office Agency at JLL, said: "Sustained levels of occupier demand combined with the decreasing availability of Grade A office supply has contributed to healthy rental growth with year on year increases witnessed in all bar one of the Core 8 cities. Manchester and Leeds saw the most significant increases – rents jumped by 6.5 percent year on year to £33 per sq ft and by 6 percent year on year to £26.50 per sq ft respectively. Partly aided by pre­lets, the development pipeline is now responding to the supply issue with Manchester accounting for the greatest volume of speculative development activity (875,000 sq ft)."