March 29, 2023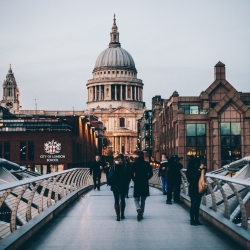 The 2023 business rates revaluation will come into effect on the 1st of April 2023, the first of its kind for six years and according to business rates experts at Colliers could have a material impact on the provision of affordable workspace in the capital, historically located in the "fringe" locations. Colliers claims that this is because rents and hence rateable values in fringe locations such as Hackney, Southwark and Hammersmith & Fulham have increased at a greater pace than in historic 'core' office locations such as the City, Islington and the West End, and those fringe locations have now become equally or in some cases more expensive locations than those in the Central London core.
According to Colliers, this is pricing some office occupiers out, particularly those in the creative and tech industries. The firm reports that the City core has seen rents increase 21 percent over the last ten years compared to a 50 percent-60 percent growth in the fringe areas. Subsequently the gap between core and fringe has been closing. Ten years ago, there was a 30 percent gap between average core and fringe rents, and by the first half of 2022, this gap was non-existent.
Similarly since 2010, business rates in fringe areas have more than doubled. And in April's 2023 revaluation we are looking at even further rises. Offices in Hammersmith & Fulham for example will see on average a 11.7 percent rise in their rateable value (and hence rate bills), in Southwark a 11.4 percent rise and in Hackney office rates are increasing 21.7 percent, much greater than the 2.1 percent rise in the City, the 8.2 percent rise in Westminster and even a drop of 3.4 percent in Islington.
As Alex White, Director of Rating in Colliers London Team said, "The revaluation will therefore have a disproportionate impact on the fringe areas where occupational costs- rents and rates in particular are rising. Added to increased energy costs, one can see how some of the smaller business occupiers might struggle.  These new business rates rises could very well create a barrier for affordable workspaces in these fringe locations."
And moving further out into Greater London will not solve the problem because Colliers claims that the revaluation will also bring will be some substantial rises in business rates for suburban offices. Sutton will see a +24.5 percent rise, Kingston +27.2 percent, Brent +17.7 percent and Croydon +22.6 percent.
London is not alone, Colliers suggests that some UK cities office stock will also see substantial business rates rises with Oxford expected to see a 51.2 percent rise, Cambridge +31.6 percent and Manchester +26.1 percent – all areas associated with life science and high growth tech businesses.
Alex White continues, "The London Plan gives greater significance to the importance of affordable workspaces and the need to provide for these in the planning process and many local authorities are including policy within their local plans, together with thresholds and requirements for developers.  But it will all be meaningless if businesses aren't able to afford to take on these new buildings, even with their rents reduced by the Plan. This is due to the sizeable cost associated with business rates.
White also points out that the current business rates relief system also does little to support affordable workspace. Business rates relief is only available to 'small businesses' that occupy self-contained units capable of being separately valued and falling under a Rateable Value threshold of £15k. After the 2023 revaluation this will, in many central London areas, only benefit those occupying less than 205 sq. ft of self-contained space with no benefit for open-plan or shared areas.
John Webber, Head of Business Rates at Colliers continued, "With the multiplier at current high levels, this really is something the Government should look at as a key part of its promise for ongoing reform. We believe there are wide benefits of supporting affordable workspace schemes in the city fringes both from an economic and social viewpoint. It is crucial that London remains at the forefront of the UK's tech, creative and life science sectors. We have recently seen how vulnerable these industries are with the Government needing to step in to help facilitate the sale of Silicon Valley Bank UK to HSBC. As Chancellor Jeremy Hunt said, " When you have very young companies, very promising companies, they're also fragile."