March 29, 2023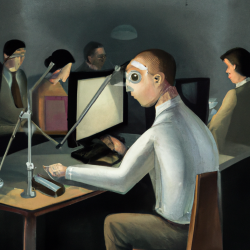 New data and economic modelling from AXA UK and Centre for Business and Economic Research (Cebr) claims that people are struggling with burnout and work-related stress, with an estimated £28bn lost last year due to poor mental health at work. The majority of this cost is due to loss of working days because of stress, burnout and general poor mental health, with businesses losing 23.3m working days as a result of these issues. 
The AXA Mind Health Study, a survey of 30,000 people aged 18 to 74 from 16 European, Asian and American countries, found that more than a fifth (21 percent) of UK adults are in 'emotional distress', defined by the study as 'struggling', and a further quarter (26 percent) have an absence of positive wellbeing, defined in the study as 'languishing'. This means almost half of the UK are currently not in a positive state of mental wellbeing and at risk of burning out, which is having a significant impact on the economy and businesses across the UK.
Now in its third year, the study claims to have found some signs of improvement in the UK, with a decline in the stigma associated with having a mental health condition and more people 'flourishing' and enjoying very good mind health (23 percent) compared to last year (18 percent) – one of the biggest increases among the countries surveyed. However, the UK shared the top spot for proportion of people struggling, alongside the US.
The study claims that almost one in two people (46 percent) are feeling overwhelmed and uncertain about the future and the UK's cost-of-living crisis seems to be having a particularly negative impact. Data from Cebr shows that financial stress and concerns among employees are costing UK businesses up to £6.2bn alone in sick days and lack of productivity.
The AXA Mind Health Study is conducted in collaboration with IPSOS and aims to identify mental health and wellness issues in society to help build solutions to mitigate them.
Data from the AXA Mind Health Study and economic modelling from Cebr also shows:
Women and young people are experiencing poorer mental health
 Women are more likely to be suffering from a mental health condition (38 percent vs 27 percent) and to currently be in a struggling state (24 percent vs 18 percent) compared to men
Female employees are less likely to have flourishing mind health compared with their male counterparts (17 percent vs 28 percent).
Almost half (48 percent) of people between the ages of 18-24 currently suffer from a mental health condition, compared to 22 percent of those over 55
The stigma associated with having a mental health condition is declining
55 percent of people agree that the stigma associated with having a mental health condition is declining compared to 50 percent last year
Most people (70 percent) trust their family and friends to provide mental health support and 65 percent believe they would know how to access help for a mental health condition if they needed it
The negative effects on employee wellbeing
Latest data from the ONS and previous studies on sick days show burnout is associated with absenteeism, with a 21 percent increase in sick days per year
In addition, burnout and work-related stress result in reduced productivity, decreased organisational performance and increased healthcare costs
However, mental health support at work makes a big difference. The Mind Health Study reveals that those who are supported at work are twice as likely to be happy and almost three and a half times more likely to be flourishing
There is wide-ranging inequality amongst those who are struggling
Public sector workers are more likely to experience burnout or work-related stress
Health and social sectors are more likely to feel worried about their job
High earners are more likely to experience work stress and low moods