October 10, 2016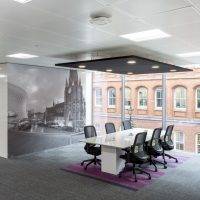 Located a stone's throw from Snow Hill Station in Birmingham's min business district, insurer, RSA's new Trading Site puts its employees at the heart of the customer experience. Rather than separating support functions from front of house, the new space combines client-facing areas and open plan benches to create an open, collaborative and flexible environment. The office features assigned workstations for staff including brokers and underwriters, who will benefit from the enhanced collaboration and communication across the clear, unobstructed workspace. In addition to open plan benching, the office features, meeting rooms, lounge areas and a multifunctional kitchen that can transform into an intimate client event space.
Specifying various configurations of KI's 800 Series Storage and Work2 cantilever benching in a grey and white colour scheme, RSA selected furniture that actively supports a clean desk environment, ensuring a presentable customer-focused 'front of house' space at all times. Personal storage lockers give staff a secure place to stow their belongings. These lockers, along with end of desk cupboards, recycling units and confidential waste bins have been specified at a consistent height with workstation screens, and all feature sloping tops. This prevents objects, paperwork, or any other unwanted clutter accumulating, thereby preserving the clear, tidy line of sight across the office.
Work2 cantilever benches with bold 80mm steel A-frame end legs in silver are complemented by grey upholstered screens. White worktops along with the white storage maintain a light, sophisticated aesthetic throughout. RSA selected KI's Work2 bench for its retrofittable height adjustability. Work2 offers flexibility not only to distribute the cost of height adjustability over time, it also allows upgrading to height adjustability on a case-bycase basis in any position, one at a time. This eliminates the need for RSA to arbitrarily decide at day 1 where these positions should be. Should a new member of the team require height adjustability feature, they will not need to be separated from their team in order to sit at a previously configured workstation.