May 1, 2015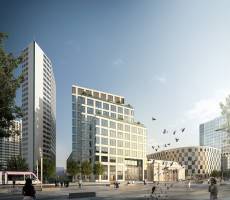 Unsurprisingly, the high profile relocation of HSBC to a new base in Birmingham has been rubberstamped by the city's council. Despite HSBC's recent threat to quit the UK completely, the planning committee has confirmed that the move, first announced in March, will go ahead as planned. The new 210,000 sq. ft. landmark building at the 2 Arena Central mixed use scheme has been designed by Ken Shuttleworth for handover to HSBC in 2017. The move to Birmingham has been largely attributed to the bank's reaction to the financial crisis and the subsequent climate of legislative reform and public criticism. HSBC has longstanding links with the West Midlands and The Birmingham Post reported recently that it may resurrect the name Midland Bank as it relocates 1,000 staff to the UK's heartland.
Jonathan Wallis, director at Arena Central Developments, said: "Receiving this consent brings us one step closer to the delivery of an exceedingly significant addition to Birmingham's commercial landscape, supporting the city's growing reputation as a leading centre for professional and financial services occupiers. The completion of the deal to HSBC, combined with the City Council's confirmation of the planning gives us the confidence to begin developing the public realm alongside this signature building. Throughout the construction period, we will continue to work closely with HSBC to ensure the creation of a bespoke and truly first-class commercial environment."
The Arena Central project that will be home to the new HSBC headquarters is a2.3m sq ft mixed-use scheme, which includes 860,000 sq ft of Grade A offices, over 200,000 sq ft of housing, 2,500 car parking spaces and more than 1.2m sq ft of retail and leisure space.