September 4, 2023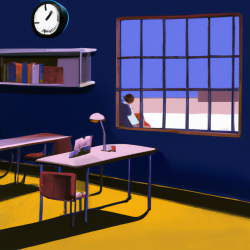 The Scottish government is to trial a four day working week for many civil servants. The experiment is set to last for a year and a number of departments and public sector bodies have been invited to take part. After twelve months, if the trial proves successful, the four day week scheme could be extended to include a wider range of central government bodies, councils and quangos.
Joe Ryle, director of the 4 Day Week Campaign, said: "This is fantastic news and builds upon all the evidence from across the world which shows that a four-day week with no loss of pay both increases productivity and improves work-life balance. The shorter week has been extremely successful for many businesses in the private sector already so it's only right and fair to see if those benefits can be applied to the public sector. One hundred years ago we moved from a six-day week to a five-day week. It's great to see Scotland now leading the charge towards a four-day week."
Not everybody sees things the same way, however. Conservative Shadow Cabinet Secretary for Finance and the Economy Liz Smith said: 'Humza Yousaf is living in a fantasy land if he thinks this ridiculous plan is feasible at a time when our economy is lagging behind the rest of the UK, our NHS is on its knees and councils are having their budgets savagely cut."
Earlier this year, the results of a four day working week trial were presented to UK MPs. They were told that businesses that adopted a four day working week as part of a pilot programme claimed to be more profitable and their staff fitter, happier and more productive.
A large majority of companies that took part in the pilot now plan to carry on. The programme, led in the UK by non-profit 4 Day Week Global, the UK's 4 Day Week Campaign and think-tank Autonomy,  involved around 3,000 workers through a six-month trial, with no loss of pay. This brings the global campaign's total number of completed pilot participants to 91 companies and approximately 3,500 employees.
According to its advocates, overall results suggest that almost every organisation will stick to a shortened week post-trial, with 91 percent definitely continuing or planning to continue, and a further 4 percent leaning towards continuing. Only 4 percent of participants are definitely not continuing.