June 30, 2015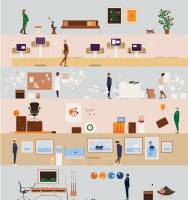 The trick with visits to exhibitions like Neocon, the huge office design event which has just wrapped up in Chicago, is to stay focussed on the wood as much as the trees. So as well as identifying new products, you can also work out the themes pursued by the exhibitors and organisers which are invariably based on the ideas they are currently discussing with their clients. The show becomes a microcosm of what is happening in the outside world. At this year's Neocon, some of the most readily identifiable themes included the dissipation of the workplace, the creation of work settings, privacy, ergonomics, wellbeing and serendipity. With the possible exception of the age old problem of ergonomics, these all relate to our changing relationship with work and workplaces, not least how we can work from anywhere and what this means both functionally and aesthetically.
Settings
Perhaps the most talked about issue in workplace design right now is the idea of creating a variety of work settings that allow people to choose the best place to work. This principle draws its inspiration from the very many places people carry out work now, so there is a huge crossover between the form and function of furniture products for the home, office, hotel and cafe. People like it because it gives them a choice of where to work and firms like it because of that and the fact that by sharing space they can reduce their real estate costs and create a more flexible and productive workplace.
This was the underlying thinking behind the show's flagship products from two US furniture giants Herman Miller and Haworth. Indeed Herman Miller's Living Office concept explicitly addresses the blurring of the boundaries between different parts of our lives and the places we work.  Similarly, one of the show's award winning new systems from Tuohy is deliberately difficult to pigeonhole both aesthetically and functionally.
Silence
One of the other driving forces behind the rise of settings based workplace design is the need for people to find somewhere quiet to work. Appropriately one of Neocon's most talked about products was Steelcase's Brody Worklounge. Although presented as a new way for people to escape the din and interruptions of open plan working, variants of these products have been around for some time and are a common enough sight at European events such as Orgatec and Clerkenwell Design Week.
One European firm that has pioneered products designed to address the problems associated with office noise and distraction is BuzziSpace who have opened up the market to more innovative products than the traditional fabric covered screen. It too was an award winner at Neocon, scooping a prize for its BuzziFalls panels.
Serendipity
One of the other benefits of settings based workplace design is the idea of creating a structure which brings people together, and not always in predicted ways. Serendipity is a big idea now and the workplace can allow people to make the most of these fortuitous encounters. That is why so many workplaces are now not complete unless they have breakout spaces and areas of soft seating dotted through them to allow people to sit and work together on an ad hoc basis.
Teknion was making this explicit with its new collection from British designers Pearson Lloyd with an office based interpretation of the classic loving seat. Knoll had its own striking take on soft seating with the Prism chair designed by British architect David Adjaye.
Wellbeing
This might once have been a section dominated by the idea of ergonomics, but that all seems so very 20th Century now that we can look at ways in which we can positively promote the health, productivity and happiness of employees rather than merely ensuring they come to as little harm as possible.
Ergonomic task seating is still around, and as important as ever, hence products like the Coza chair from Boss Design. But the emphasis of task seating is now very different, because people work in such a variety of postures depending on what they are doing or which device they are using. The focus now is on movement rather than an ideal posture.
Sit stand workstations are an important part of this new approach. There has certainly been a flurry of interest in them in the UK recently, even though they are pretty standard products in other countries in Northern Europe. They still raise eyebrows as well as backsides in North America and
Neocon saw a great deal of talk about working while standing. The Stir Workstation is a pretty conventional sit stand desk but with integrated technology to allow you to control when to move.
Coallesse meanwhile showcased a range of height adjustable products that are aimed at encouraging people to stand during meetings or at least use high stools. Not only is this good for you physically, it may also be designed to keep the time spent in meetings to the minimum it needs to be.
___________________________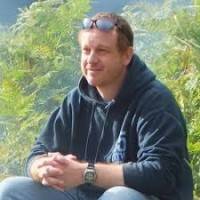 Paul Goodchild is the Design Director of Fresh Workspace. This article also appears on The Arch Biz.