July 1, 2015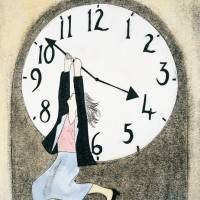 It's now one year since the UK Government extended the right to request flexible working to nearly all UK permanent employees. Two new surveys have been published to coincide with the anniversary and gauge the effects of the legislation. Both surveys, from EY and Microsoft UK, paint somewhat mixed pictures, with uptake considerably slower than might have been expected. The study by Microsoft, one of the UK's great champions of flexible working, found that just 22 percent of workers in SMEs have requested flexible working as a direct result of the new legislation. The report also found that over half (55 percent) of British office workers are still required to work from the office during set working hours. A similar proportion (44 percent) claim it is not possible for them to work remotely under any circumstances.
The study is rather more upbeat about the perceived benefits of flexible working for those who have taken it up. Over a third (35 percent) of the 1,000 workers surveyed claim it makes them more motivated, with a similar number (36 percent) saying it makes them more productive. Conversely, only a tenth  (11 percent) of employees say they have their best ideas in the office, and many spend the day doing largely administrative tasks such as clearing out their email inboxes.
According to Dave Coplin, Chief Envisioning Officer at Microsoft UK; "Business leaders should reimagine how workers operate. According to the Office of National Statistics, productivity levels in the UK are stagnant and lower than the start of the recession in 2007. There's never been a better time to change since there's a risk that firms are cultivating an environment that traps staff in process and red-tape instead of giving them the opportunity to think and have the necessary head-space to be creative. Instead of automatically assuming that work can only happen in the office, employers should focus on the work at hand, where it makes the most sense to complete it and then give employees the freedom and tools to empower them to be productive anytime, anywhere."
Meanwhile, research from Ernst & Young claims that 8.7 million people in the UK now want to adopt flexible working practices, while 82 per cent of managers believe that this would benefit their business. The study claims that £8.5 billion could be added to the UK from flexible working, through more productive use of available flexible working hours. The research revealed that two out of three firms say that flexible working helps motivation, commitment and employee relations.