May 30, 2013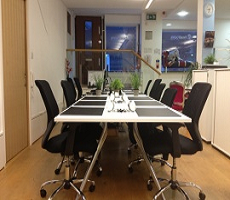 London desk renters could save almost £200 a month by choosing a shared office over a serviced office, according to new research. The Office Genie Price Index has revealed that the average desk in a shared office in London costs £335, while a desk in a serviced office was found to cost on average £513 per month; £178 more. This saving of 35 per cent on the price of a serviced desk makes shared offices an affordable alternative in the world's most expensive city for office rental, where a single square foot of office space in London can cost up to £170.
Across the country as a whole a desk in a shared office was found to cost £275.00 a month; £33 cheaper than the serviced equivalent.
"This underlines just how viable an option shared offices can be for a start-up, or any business looking for a small amount of office space," said Peter Ames, web editor for Office Genie, the site that lists desks in shared offices.
"I don't think renting a desk in a shared office, either in another company's spare space or in a desk-scheme, is hugely different to a serviced office.
"You get many of the same features; internet access, inclusive utilities – as well as your chair and desk. But these figures indicate you could make a total saving of over £10,000 a year for a five-person company.
"The really good news is that more and more companies are sharing their office space. We've got almost 6,500 spare desks now on the site; the most we've ever had."