November 2, 2018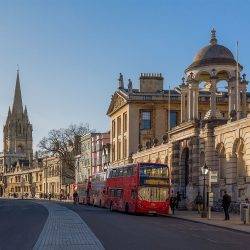 Improving skills levels and new business formation have been the key long-term drivers of growth for UK cities since the financial crisis, according to the latest Demos-PwC Good Growth for Cities 2018 index that ranks cities on a combination of economic performance and quality of life. The latest Index analyses a decade of economic and social data to determine what long-term factors drive Good Growth. PwC analysis shows that the average city in our index has improved its good growth score significantly over 10 years from 2005-7 to 2015-17, and has now more than recovered from the recession and downturn triggered by the global financial crisis.
Improving average skills levels for the UK's youngest workers and driving new business formation have been the strongest drivers of good growth over the past decade, while unemployment levels have fallen back to around pre-crisis levels. However, this long-term retrospective analysis also highlights areas where there have been structural deteriorations for cities across the UK, particularly around reduced housing affordability and owner occupation rates and steep increases in average commuting times.
These longer term trends contrast with shorter term movements in the index, which have been driven primarily by falling unemployment rates and, in part due to this, higher household income levels.
Published today [1 November 2018], the seventh annual Good Growth for Cities 2018 index sets out to show that there's more to life, work and general well-being than just measuring GDP. The index measures the performance of 42 of the UK's largest cities, England's Local Enterprise Partnerships (LEPs) and the nine Combined Authorities, against a basket of ten indicators based on the views of the public as to what is key to economic success and wellbeing.
These include employment, health, income and skills – the most important factors, as judged by the public – while housing affordability, commuting times, environmental factors and income inequality are also included, as is the number of new business starts.
Oxford and Reading top the index for third year running
Oxford and Reading continue to lead the pack of highest ranking UK cities for Good Growth, reflecting improvements particularly in income levels in the latest period. However, Southampton is gaining ground and beginning to close the gap between the top two cities and the rest of the index because of an increase in the number of new business startups in Southampton compared to last year's report. .
This year's index sees Preston topping the most improved city rankings since last year's index, with other big improvers including Middlesbrough & Stockton and Wakefield & Castleford, which had previously been low performers in the index. However, much of this new cohort of improvers reflects the impact of substantial falls in unemployment rates reaching out across all parts of the UK.
John Hawksworth, chief economist at PwC, commented: "Almost all UK cities have seen improved good growth scores in recent years, driven primarily by cyclical falls in unemployment rates that have now rippled out from the South East of England to regions like the North East that were previously lagging behind.
"But the more interesting perspective is provided when we look at the whole decade from 2005-7 to 2015-17, which covers a full economic cycle and therefore allows us to identify deeper structural trends. The good news here is that successive cohorts of young workers have higher average skill levels, which is pushing up index scores together with rising rates of new business creation in most cities.
"But the flip side of this success has been worsening housing affordability and consequent falls in home ownership rates precisely for those young people who have invested in acquiring new skills. As they are pushed further from city centres to afford a place to buy or even rent, average commuting times have also risen. Having largely recovered from the financial crisis, addressing the housing and infrastructure supply constraints that drive these negative trends will be key challenges for the next decade for both central and local government, looking beyond the immediate issues around Brexit."
The index shows that almost all major UK cities improved their score relative to our 2017 index, driven primarily by rising employment. In general, those cities that have seen the biggest improvements in their overall score have also experienced particularly large falls in unemployment in recent years.
Price of success grows
However, the "price of success" has also become increasingly evident recently as we see declining scores since last year's index for transport, owner occupation rates and particularly housing affordability, which highlights some of the ongoing challenges faced by UK cities.
The research shows that English Combined Authorities have made improvements in each area compared to last year's report. Greater Manchester has experienced the largest improvement amongst the Combined Authorities as a result of an increase in the number of new business startups per head. However, the West of England extends its lead at the top of the index rankings for combined authorities, driven by increasing skills amongst both the 16-24 and 25-64 year old populations.
Image: Photo by David Iliff. License: CC BY-SA 3.0 via Wikimedia Commons