January 14, 2022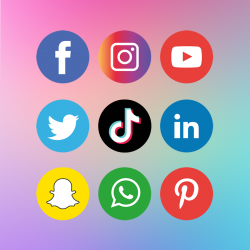 With the 'Great Resignation' driving people to look for new employment opportunities in the New Year, social media activity could be harming career prospects, with a third of British workers (32 percent) reporting this to be the case, according to new data from Kaspersky. This number rises to almost half (47 percent) of those at graduate or entry level. In addition, 40 percent worry that their historic online presence could have an adverse effect on their future employment.
The impact of social media on job prospects is greatest amongst younger generations, with 40 percent of those aged between 16-21, and 33 percent of those aged 22-34, reporting that their posts have already been detrimental to their career. More than a third (38 percent) of people acknowledge that if a potential employer saw their posts it would harm their chances of being hired, whereas half have requested that they be removed from a post or photo they have been tagged in.
While Gen Z embrace technology and social media, Kaspersky's research suggests that posts could have a damaging impact later in their career paths. Data reveals that historic social media usage affects even the most senior employees, with half of directors admitting that it has had a negative impact. In fact, 45 percent of people regret using social media as much as they did when they were younger.
While old social posts can present challenges with job applications and progression, Kaspersky's data shows that they can also be damaging to workplace relationships; 40 percent of people admit to having searched for a colleague online and finding something that they have judged them on. Yet, these preconceptions are often inaccurate as 42 percent of people surveyed say that their social media profiles are not representative of their authentic selves.
Of course, social media has also proven to be an invaluable resource for job seekers; recent research found that 73 percent of millennials found their last position directly through a social media platform, with LinkedIn proving particularly popular. In fact, Kaspersky's research revealed that users were least likely to regret posts on this platform (2 percent) versus 29 percent on Facebook.
David Emm, principal security researcher at Kaspersky, explains: "It may be tempting to share something online because it seems like a great idea at the time, but it's always worth taking a moment to think about how that post will be perceived by others, particularly those who may become your employers or colleagues. While some posts can be deleted, the content can always resurface and have damaging effects on many aspects of life, including our careers. It's therefore wise to limit the amount of information shared on these platforms and use the highest privacy settings available to limit who can view our information."
Tony Neate, CEO at Get Safe Online, adds, ""Social networking has been – and still is – one of the revolutions of the online age. When used correctly, it is an excellent way of keeping in touch with friends and family, sharing information and advertising and finding new work. However, as this latest survey from Kaspersky shows, it is always good to remember, what goes online stays online.
"Our advice is simple. Enjoy the benefits of social media but periodically – and the new year is a perfect opportunity to do this – take a step back and remind yourself why it's important to think before you post. Use the time to edit and even delete recent posts that might position you detrimentally, minimising the risk of current and future employers or colleagues seeing you in a negative light. You could also consider updating your privacy settings so only certain friends can access your posts, helping to provide a screen between your social life and your job."
For more insights on 'the cybersecurity implications of social media' you can register to the SASIG and University of Surrey webinar on the 26th of January here.