February 28, 2013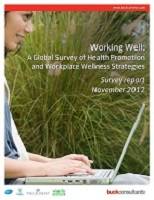 Wellness programs are no longer a "soft" issue for organisations around the globe with employers increasingly recognising the value of employees' health and well-being to their organisations' bottom line. According to the latest report from Buck Consultants, global employers – regardless of location, identify improving worker productivity and reducing presenteeism as one of their top wellness objectives. Wellness initiatives also continue to add value over time and while significant results can take years to realize, the survey shows how the impact of wellness programs differs by short-term and long-term payoff.
"Working Well: A Global Survey of Health Promotion and Workplace Wellness Strategies" reveals an increasing number of organisations recognise their role in managing employee health – 87 per cent in 2012 vs. 75 per cent in 2010.
"With productivity having a direct tie to bottom-line revenue, organisations now consider health promotion as a core business value that positively impacts their ability to compete," said Dave Ratcliffe, principal, Buck Consultants.
Overall, still only 36 per cent of respondents currently measure specific outcomes of their health promotion programs, citing lack of resources (68 per cent) and not knowing how to measure (34 per cent) as the top reasons for not measuring. The likelihood of measurement increases with employer size, although even among the largest employers (20,000+ employees), only 47 per cent report having measured specific outcomes.
Thirty per cent of employers who measured health promotion program outcomes indicated that they increased their emphasis on wellness programs during tough economic outlook vs. 21 per cent of employers who do not measure outcomes.
"Employers who measure program outcomes do so with a greater focus on driving business results," said Ratcliffe. "A healthier workforce is a more productive workforce, which produces greater revenue that is sustainable over the long term.  So these employers understand the value of continuing their wellness initiatives even during hard economic times."
Other key findings of Buck's global wellness study include:
Increase in globalization – Among participating multinational organizations, 49 percent have a global health promotion strategy, up from 34 per cent in 2008.
Program focus: move more, relax and eat better – Though different by specific geographic region, the majority of employers cite physical activity, stress, and workplace safety as the top three issues driving wellness program design.
Incentives impact on program participation depends on type of activity – The survey shows that incentives have a direct correlation to program participation levels, but initiatives that require long-term lifestyle changes (such as physical exercise and nutrition) are not as greatly influenced by incentives as are more immediate programs (such as health assessment and biometric screenings).
Buck's fifth annual global wellness survey analysed responses from more than 1,300 organizations in 45 countries representing more than 17 million employees.
The global survey results will be further examined at the first Global Healthy Workplace Awards & Summit in London on April 10-12. The summit will bring together leaders in global health and well-being from diverse fields, and finalists for the prestigious Global Healthy Workplace Award will present their solutions.