April 12, 2022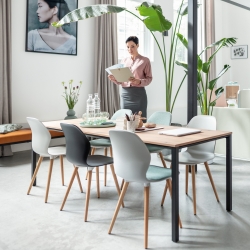 Back in 2018, I launched a group called Women in Office Design. I wanted to inspire and empower women involved in the profession of office design and creation. The opportunity to develop and enhance my skills and understanding was a fundamental reason why I formed WOD. Reading and research is beneficial but it's important to take the time to reach out to others in the industry, especially on the most important issues of our day such as sustainable office design.
It soon became apparent that I was not alone, and there are now groups in the UK, Spain, Italy and India as well as participants from around the world hosting events, courses, workshops and exchanging ideas of a dedicated platform. It is important to learn from peers and tap into those who have 'been there, done that'.
Many men take part in events too. We seek to champion inclusivity and openness to ultimately ensure equality for all.
As we tackle the climate crisis, the need for collaboration and knowledge sharing has never been greater. It is imperative that our industry works together to develop solutions which drive greater environmental responsibility and understanding.
Last year, WOD hosted a series of seminars focussed on topics related to the greater awareness of issues related to sustainable office design. They were extremely well received but didn't necessarily result in longer term outcomes.
Working with Joanna Knight as WOD's sustainability manager; Ella Fathi, Design Director at Oktra; and environmental engineer and campaigner, Georgia Elliott-Smith, we saw the opportunity to create a 'think tank' group to promote and applaud achievements and, more importantly, to create a forum for knowledge sharing and exchange.
In January 2022, we hosted our first meeting of the Sustainable Design Collective. We have over 20 members including senior representations from Perkins & Will; MCM; Grimshaw; JLL; Gensler; MF Studio; BIID; White Red Architects; TP Bennett; BDP; Align; Peldon Rose and Woodalls. All participants are uniting to help accelerate the pace of change in developing a more sustainable approach to workplace interiors. All members endorse and accept the spirit of non-competition. We are working towards the greater good – ultimately to reduce our climate impact.
The Collective will meet every two months to focus on key topics including Eco-Design; the Circular Economy; Certification and Assessment. The Collective meetings are practical sessions focussed on discussing key topics which have the greatest impact on companies working in the office design field. Members are encouraged to highlight 'best practice' and describe hurdles and difficulties. Issues requiring Government intervention can be elevated to relevant trade associations to assist in lobbying activities.
The first session reviewed current practices and procedures across the membership.
Key outcomes from the meeting included the need for greater recognition of the cost implications. As one of the members highlighted "There's a need to educate the client from start – there is a cost associated with greater focus on sustainability." Similarly, the need for compromise and a commitment to sharing and knowledge exchange were agreed. "Knowledge sharing is vitally important" was the message. All recognised that this approach requires a behavioural change as traditionally we are driven by the commercial demands of keeping secrets.
After each meeting, we are publishing key outcomes and discussions and offering for download from the web site – www.woduk.com/sdc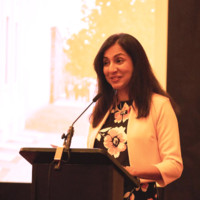 Harsha Kotak is the founder of Women in Office Design (WOD). With a Masters degree in Interior Design from SCAD, Harsha has pursued a 20+ year career within workplace interiors across three continents and is Projects Director at K2 Space.