March 5, 2015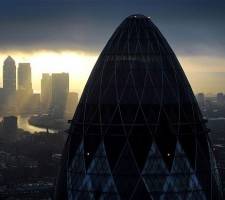 The office as we know it may continue to change, but that doesn't mean its vital role at the heart of the organisation will diminish. The recent downturn meant some tough decisions had to be taken by many companies. It certainly focussed more attention on the way firms design and manage their workplace, based on a clear understanding of their economics. It is one of the most commonly cited truisms about office design that after staff, buildings are easily the second highest item of expenditure for the majority of organisations. The conclusion often drawn from this is that there is a compulsion to reduce space through new working practices or more efficient office design and management. Which may be true but the challenge is to take advantage of these opportunities without adversely affecting the company's most expensive and valuable asset; its staff.
Nowhere is this more apparent than in the financial services sector. Like many others, this industry has made significant changes to its offices and real estate over the past few years. Even so, demand for space continues to rise in the UK's most prominent financial services sector hot houses. According to the latest research by Cushman & Wakefield, while all areas of the capital saw an upturn in activity during 2014, the City of London market recorded the highest volume of lettings for 15 years, with 7.2 million sq ft of transactions completed compared to 7.4 million sq ft in 1998.
The complexities of the changing approach the financial services sector has to its offices was laid bare in a recent report from architectural practice HOK, which explores the key design trends at leading financial services firms over the past three years. One of its most important findings is that space is underutilised across the sector by nearly a half, meaning that growth can easily be accommodated within the existing property of many firms. The HOK Benchmarking Report claims to provide information on recent trends affecting the industry, an analysis of how organisations are using office space and metrics for space standards based on recently completed projects for financial services firms in New York, Toronto and London totalling more than one million square feet.
One of the report's key findings is that growth often can be accommodated within existing space, which is consistently underutilised by an average of 48 percent. It claims that, when undertaking renovation projects, firms should consider the creation of multi-purpose environments that encourage more efficient, collaborative and innovative use of space.
What it doesn't suggest is that these firms can now afford to do without their head offices. Indeed, the war for talent means they are taking on a new prominence. Also, people like their own space and firms know that it is no good addressing employees as their major asset, only to see them walk out of the door because they don't want to sit in a different place in the office whenever they are in. Similarly, homeworking is not for everybody. We are social animals and while some people have no trouble motivating themselves and developing coping mechanisms for isolation, other people struggle.
While the role and the shape of the office may change, it is likely to be in ways we cannot yet envisage clearly and the fundamental functions of the office will not change. It will never be fully 'virtual' because that would be to erode its important role as a touchstone of identity for the organisation.
What we can foresee is the continuation of current trends, which is always a good place to start. Offices will continue to get leaner, supporting more people from the same or less space. There will be even greater emphasis on space utilisation at the expense of space density. As a result space will be designed and managed more intelligently, with better, faster and more intuitive technology. There will be even more focus on social spaces, in particular to support the needs of mobile workers and visitors to the building. There will be an ever greater emphasis on identity, both for clients and employees as a way of binding everybody to the organisation. It will still be the glue of the business.
All of this will inevitably demand a response from a wide range of professions, designers, architects, engineers, HR, IT and in many ways at the heart of it all; facilities management. Certainly it will become increasingly difficult to create the contemporary office without the sort of holistic approach to design and management that can be offered by the facilities management profession. These are exciting times but the vital role of the office will not dim for some time yet, especially for key sector such as the financial services industry.
__________________________________________
Charles Marks is the Managing Director of office refurbishment, design and fit-out company Fresh Workspace. www.freshworkspace.com