November 18, 2020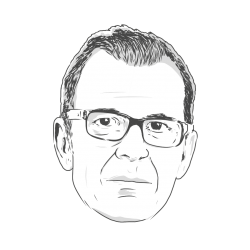 In the latest issue of IN Magazine, Chris Kane talks about his new book Where is My Office? and how this is possibly the best time to publish a book about workplace transformation, in spite of the upheavals of the last year. Another author and world-famous workplace expert to publish on a related theme is Neil Usher. His new book, Elemental Change, is also timely as many organisations look to a post-pandemic era in which they must challenge many of their previous assumptions about their structure and how, where and when they work.
Neil's work Elemental Change is in many ways a follow up to his previous book The Elemental Workplace, but paints on a much broader canvas. Last week he joined Claire Williams at a Women in Office Design event, hosted in the London showroom of KI, to discuss his book as well as the wider ramifications of the pandemic for the workplace, people's lives and society.
While the original book, Elemental Workplace, is about bettering the environments in which we work so that we can get the most from ourselves and our employees. Neil is now challenging workplace professionals to apply similar principles to the change process.
Change should be an evolutionary process which is far more powerful than transformation. We need to adapt our thinking and accept that change is not a transactional activity. This is the challenge: "How to make change happen when nothing is standing still."
During the presentation, Neil outlined the principles of his approach through a series of 'steps that define the elemental change of the book's title'. What are we going to do; How are we going to do it; Why are we doing this? He went on to explain that we need to analyse the 'Known' factors and plan for them. Similarly, we should think about what we don't know, in other words, the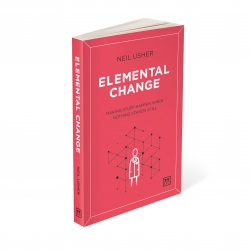 'Unknown'. Just as importantly, we must confront the 'buried' or ignored issues. As people, we often unconsciously suppress certain circumstances simply because they might be 'overtaken' by more current ones. For example, a major consideration pre-Covid19 was dealing with mental health within the workplace.
Neil also argued that most change programmes are based on the principle of 'adoption'. Many companies work on the same theory as installing a new IT 'app' – 'this is it, so use it'! We should be asking people to adapt, giving them a sense of control and opportunity to 'be heard'. Workplace professionals should not be afraid of resistance or dissent – it actually gives insight into factors that may not have been considered.
Sponsored by furniture manufacturer, KI, the presentation was certainly thought provoking. The unanimous opinion from attendees was that they were looking forward to obtaining a copy of Neil's book and reading his proposals in more detail.
Women in Office Design was founded in May 2018 by Harsha Kotak, an interior designer with a vision to inspire and empower women working in all areas of the office design industry. WOD is a growing network of 1500 plus global members with chapters in London, Birmingham and Spain, and plans to expand to other major cities nationally and internationally. People can join WOD Digital to register for all events by going to the website – www.woduk.com/digital
KI launches Colonnade
KI also used the event to launch their new product Colonnade, which was co-created in partnership with one of the firm's largest clients to help transform their workplace experience. Redefining the traditional open plan office to be more inclusive, collaborative and flexible, it is centred around the concept of user control. The system can help support a neurodiverse workforce – rather than expecting users to struggle and adapt to a rigid workspace, it allows them to quickly adapt the workspace to suit their unique needs. Readily integrating into new or existing space plans, Colonnade can help manage visual and auditory sensory stimuli, often cited as a major drawback of open plan spaces for both neurodiverse and neurotypical individuals.
Additional reporting: Joanna Knight