April 27, 2020
And so our timelines flit from 5G conspiracy theorists, to 10 tips for your home office, Zoom group selfies, right back to where we started: the worn out topic of 'the future of workplace'. We're in something of a collective thought process, excluding Donald Trump that is, who is clearly on his own individual trajectory.
With suspicion akin to that felt by incarcerated animals as the cage door is flung open, unleashing them into the jungle, many office workers in Europe are now preparing to move from lockdown into the next Corona phase. We're being released back into the wild, pre-vaccine.
The Corona crisis has disrupted our lives, routines and raison d'être, Rodney.  So how have office workers been affected and how do employers adapt to this 'alien new workforce' about to shave off their unkempt facial hair, change out of their beer stained pyjamas and return to the office. Online, the three big ticket items are:
Home Office
The spontaneous and unannounced mass remote working trial shone a blinding spotlight on unprepared businesses. When the tide goes out you see who's lost their swimming trunks, who's been working out… and who's wearing their wife's knickers.
IT teams were flooded with requests to configure remote systems. Hardware sold out. Software took some getting used to, but all in all the imposed 'home office project' has generally been hailed as a huge step forward for workplace. This is largely dependent on the worker's home situation and individual roles of course. Some staff are not permitted to access sensitive data externally, not all jobs can be done remotely… and we've all seen youtube videos of toddlers interrupting business video calls.
Social Distancing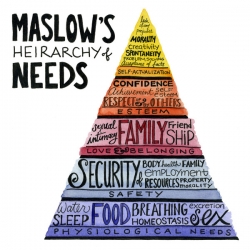 This sets new limits on workplace capacity: bums on seats. Facility managers and consultants are frantically replanning offices, reducing numbers and marking out spacing with sticky tape. More needs to be done, but a return to desk cubicles isn't the answer.
Mental Health: behavioural change
Large numbers have been struggling with anxiety, depression and lack of motivation. Going back to work will trigger a huge range of emotions. Many with (or even without) existing health conditions are reluctant to regroup until vaccines are dished out. Our needs according to Maslow have been stripped back to basics.
How those points are dealt with is central to the success of post pandemic business. And there are more.
Home office should be supported as part of a long term solution, where possible. Many want to hang on to their new-found work life balance – and why not? Traffic and emissions are reduced, people have more family time, can exercise more and are less stressed. Employers must encourage ergonomic solutions for staff home offices to avoid long term physical health problems. The irony is that as workplace interiors have been redesigned to feel more homely, we now need to make our homes more work-like.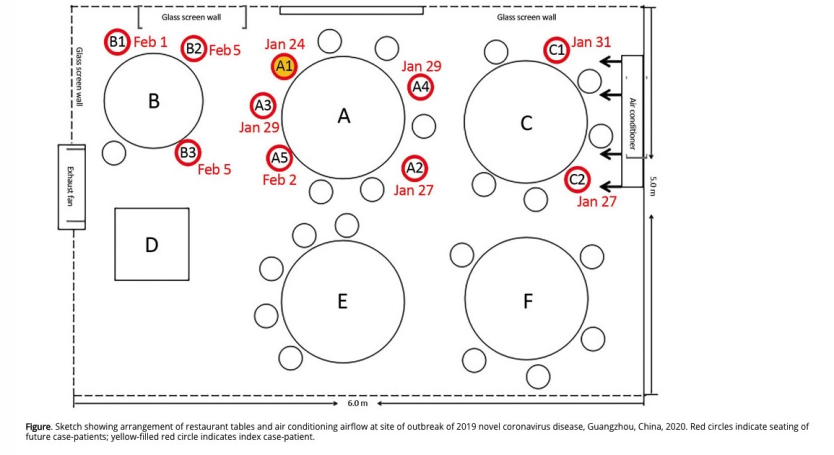 Social distancing. The above image illustrates the spread of Corona in a restaurant in Guangzhou, helped by the air con system. Patient Zero is labelled 'A1' and it's clear to see how easily infection spreads. With this scenario in mind, workplaces must be replanned to allow adequate space between workers. Aside from the office floorplate – corridors, lifts, meeting rooms, canteens and lobbies need to be considered. Staff working from home will relieve some spatial pressure. Outdoor areas become even more important as does air quality and the cleaning regime.
Teamwork must be supported with the right organisational aids, making use of AI tech tools to optimise and co-ordinate teams and resources with maximum efficiency. Complex organisations like UPS use such tools to calculate optimum delivery routes, saving time and costs. Businesses have finite resources and the rub lies in the optimisation of available assets. Who to place on 'Kurz Arbeit' (German for furlough) and who to keep on. Which facilities and staff to make available, which to hit snooze for and when.
Management should be visible (physically or remotely) with regular team meetings to deal with problems and concerns. Human emotion, empathy, open communication and understanding have to take the lead. Employees with fears and anxieties should be supported in order to feel safe at work.  Businesses need to be flexible with their staff. The office does not represent work itself, presenteeism is dead.
The uniqueness of the current situation is that nobody has a definitive answer for how to work through the post lockdown / pre-vaccine period. Management must engage with employees to agree a way – and be prepared to change tactics if needed.
Culture – the office should be considered the family kitchen table, aswell as the posh front room reserved for guests. Face-timing the family is great but is no match for going over for dinner. The office remains the HQ, the idea and exchange hub. It needs to be alluring and relevant for employees and clients alike. More than ever, culture and a sense of belonging is vital, particularly as many now work remotely.
Flex and flux – If a second wave hits, lockdown measures will return. In this case, flexibility and business continuity preparations are essential. Staff should avoid rush hour travel which will in turn affect business hours. The proof of the pudding is how teams maintain contact and continuity whilst in this state of flux. The workplace is in constant change. With the right tools and management we can and will adapt.
Talent retention – Employer responses to staff fears will come under the microscope. The big losers in the next 12-18 months will be firms that ignore corona concerns raised by their team, dismiss home office requests and fail to consider staff anxiety. Businesses with short term views will lose out to long term strategists. Now is the time to buy loyalty with empathy to retain your best assets. Maybe you already read my piece on the Talent War? Well consider empathy, flexibility and looking after your team priority number one.
Stay safe.
Ben Capper is an award winning commercial interior specialist from Manchester UK, now based in Zürich, with over 20 years top level experience in the European interiors industry. Read his blog here: www.furniturestrategist.ch