May 29, 2020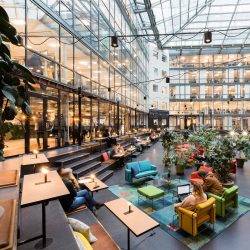 Many consequences of the COVID-19 crisis are immediately apparent to workplace managers and users. Potentially less obvious, are the fundamental changes to the job roles involved in managing commercial property, both within occupier businesses and property management teams alike.
Before the pandemic, the conversation about flexible working had been steadily moving up the corporate agenda. As research findings pointed to the potential benefits for both business performance and employee wellbeing, concerns about the practicalities – the investment, implications for training and development, the impact on knowledge sharing and creative thinking – grew louder as well.
Then, in March, things changed almost overnight. Millions of workers decamped to their living rooms and were forced through a crash course in VPN software and Zoom conference calls. Only 10 percent of UK office space has been in use during the past two months according to Landsec and, with Twitter announcing that its staff will have the option to work from home for good, many others are understandably asking: will we go back? If so, when?
For office owners and property managers, now's the time to think further ahead: what support, skills and services will these occupiers need from us when they do return? And what will the format, fit out and experience of commercial workspaces look like in the future?
Looking with different eyes
The 'six feet office' solution seems entirely based on the assumption that offices should carry on as they were
This is a important subject to consider, and unsurprisingly many of the bigger players are making predictions about the future of work that support their commercial interests. The 'six feet office' solution recently posited by one large property company for example, seemed entirely based on the assumption that the workplace should carry on as it was pre COVID-19, only with new measures introduced to enforce social distancing. These ideas are practical for adhering to new public health guidelines but miss the point of why the most progressive and modern organisations invest in office space in the first place.
While clearly well intentioned and not without merit, I fear this approach would fundamentally hamper collaboration, team working, the buzz of creative ideas and the human need for contact – in short, the joy of working with others. The post-lockdown implications for public transport alone mean we need to accept that people are going to be in the office less, at different times to some of their colleagues, or perhaps not all.
This means adapting environments to suit remote working, hot desking and conference calling while upholding new cleaning and social distancing regulations. This will surely engender a significant shift in the responsibilities of traditional office roles at all levels, from MDs to office managers. For example, will the latter take on new responsibilities for ensuring everyone feels connected in a virtual workplace?
A new role
The job specification for a health and safety manager is one in particular that may change dramatically. As well as the building fabric, office space management and regulatory compliance, how do you begin to look after the physical and mental wellbeing of employees while they are working from home? It feels inevitable that health and safety will increasingly overlap with more traditional HR priorities and become even more central to employers meeting their duty of care.
Many of us will have acquired new aches and pains in recent weeks
How will you notice who's burnt out, who's not taking enough breaks, or who's having a tough time at home? Employers will need new services to bridge the gap of small talk and social interactions, such as access to an employee helpline or private healthcare provision.
For larger employers, this could extend to diet and nutrition as well: if we're to believe, as some have said, that the good old staff canteen is a thing of the past, is there a knock-on effect for staff health, and as a result on productivity? Let's not forget that many employers have been using their staff restaurants as a route to encourage healthier eating and breaks from computers by providing alternative informal meeting space.
Many of us will have acquired new aches and pains in recent weeks as we hunch over dining tables and balance on unsupportive seating – how will a health and safety manager monitor home working environments and consider things like desk space, ergonomic set up and RSI?  These are the things that have dominated workplace guidance and legislation for years, and now it's all been turned on its head.
A new definition of work
Away from health and safety, there will need to be reconsiderations regarding the design of the new workplace – decisions about layouts, access routes and lifts, must all be taken on the basis of consultation with the people who run, and work in, these spaces.
As our working environment mushrooms out of bricks-and-mortar offices, it's also time to unshackle our thinking.  Office support staff will become even more critical to business strategy, the health and productivity of workers, and central to successful building operations, in unexpected and previously unforeseen ways.
Property developers and agents will need to work with property managers, facilities managers and health and safety staff to anticipate new occupier requirements, beyond the immediately obvious of physical space, and ensure that workplaces remain fit for our changing world.
Main image: Epicenter Stockholm