May 29, 2020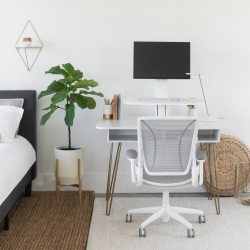 Half of UK workers (49 percent) who are currently working from home have admitted that their mental health has suffered since the lockdown, according to new Covid-19 Mental Health research from Qualtrics. These feelings are mostly rooted in the growing sense of isolation but many also feel their motivation has suffered and find it harder to focus. Conversely, the majority are also relieved they are no longer commuting and are grateful to choose their time of work. The research shows which factors those working from home consider the best and worst aspects of their new working environments under lockdown and which they would like to continue.
UK workers identified the top five most challenging parts of working from home as the following:
Feelings of social isolation (32 percent)
Finding it harder to focus (30 percent)
Feeling less motivated (25 percent)
Encountering too many distractions (24 percent)
Feeling less productive (22 percent)
However, it's not all negative, as the top five pros of working from home have also been identified as follows:
Saving time on commuting (53 percent)
Saving money on commuting (46 percent)
Being able to wear comfortable clothes (29 percent)
Having a more flexible schedule (27 percent)
Feeling more productive (18 percent)
Commenting on the research, Sally Winston, Head of EX Solutions Strategy EMEA Qualtrics said: "With UK workers unexpectedly finding themselves setting up offices in their lounges and spare rooms, many are coming to terms with a new normal. While many are struggling with feelings of isolation and a lack of motivation, others are finding silver linings in the time and cost savings seen from no commute.
"With workers now facing even more time working from home, it's vital that businesses address these concerns as well as highlighting potential benefits in order to alleviate current pressures causing mental health issues and emphasise potential positives that might be being overlooked."