November 16, 2018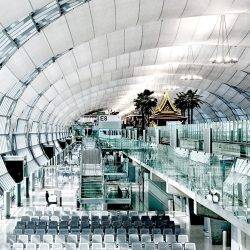 Web meeting provider PowWowNow has carried out research to find out which airports around the world are the best for remote working. The research is based on data provided by AirHelp and LoungeBuddy, and looked at on-time performance, quality of service, passenger service, Wi-Fi score, as well as number of passengers and available lounges. PowWowNow collated these statistics to make their overall index of the top 36 airports. They developed an overall score from 1 to 10 in order to rank the airports accordingly.
With an overall score of 7.4 out of 10, Tokyo Narita and Bangkok Suvarnabhumi take the crown for bests airports around the globe for remote working and are followed by Moscow Sheremetyevo and Singapore Changi Airport.
Tokyo Narita saw a passenger influx of 40,631,193, compared to 60,860,557 travellers in Bangkok across 2017. Considered the busiest airport in this list, Atlanta International, saw over 103,902,992 passengers arriving and departing in 2017, both airports prove therefore considerably less busy and easier to work from They also both offer free Wi-Fi and over 30 lounges – the best conditions for those who have to finish off work on the go.
Taking a look at their European counterparts, Leonardo da Vinci in Rome and London Heathrow were revealed as top airports for remote working in Europe. Heathrow houses 44 lounges – the highest number of work areas in any airport around the world.

Figure. The top ten airports around the world for remote working
London Gatwick voted least popular airport
This research also revealed the most and least popular airports in the world. Amongst all the top 36 best airports for remote working, London Gatwick stood out as least popular one with an overall score of 0.6 out of 10. With a score of 0.9, Atlanta International ranks second and is therefore almost as unpopular as London Gatwick. Perhaps not surprisingly, the research reveals that these two locations are the worst airports to work remotely. In comparison, Barcelona El Prat received an overall score of 8 out of 10, making it the most popular airport in this ranking
Image: Suvarnabhumi Airport by WSP