March 18, 2020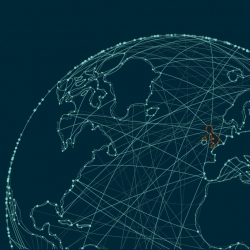 Britain's digital sector is growing at six times the pace of the country's other industries, according to new research from Tech Nation. According to the annual study, technology businesses contributed around £149 billion to the UK economy in 2018, nearly 8 percent of GDP. Since 2017 staff numbers at digital companies have risen by 40 percent to 2.9 million, nearly tenth of the total UK workforce.
The annual study suggests that investors have continued to put record sums into British digital start-ups, with tech companies raising a record £10.1 billion, up by £3.1 billion on 2018. Start-ups based in Britain secured more new capital than their French and German counterparts combined receiving a third of the total venture capital invested in Europe.
Britain lies third behind the United States and China in venture capital funding and is home to some of Europe's most prominent tech hubs. London, Manchester, Cambridge, Bristol and Oxford are among the continent's leading 20 cities for venture investment, according to the research. Manchester is the fastest growing city in Europe for tech investment, which rose from £48 million in 2018 to £181 million last year
Key stats
Digital tech sector GVA grew nearly 6x faster than that of the rest of the UK economy in 2018 – contributing £149bn to the UK economy and accounting for 7.7 percent of UK GVA
Digital tech employs 2.9m people in the UK, an increase of 40 percent from 2017 (now accounting for 9 percent of the national workforce)
25 percent of Europe's top 20 highest investment tech cities in 2019 are in the UK – Manchester, London, Bristol, Oxford and Cambridge
95 UK companies valued at between $250-$800m in the UK in 2019 – a 27 percent increase from 2018, in addition to the 77 $1bn valued companies currently in the UK
Tech Nation has also announced which companies have made it onto its Future Fifty 8.0 programme, Europe's longest serving and most successful programme for late-stage tech companies, with 9 IPOs and 30 mergers and acquisitions. Successful applicants include Atom Bank, Vizolution, BenevolentAI, Elvie and Babylon (full list below)
Gerard Grech, Chief Executive, Tech Nation, commented: "These are truly extraordinary times that we are living in. Over the coming months, technological involvement in keeping services going, keeping businesses afloat and keeping people alive will be essential, impactful and exponential. Across the piece, UK tech companies are offering radical solutions. We need to stay responsive, with smart regulation, ever increasing access to growth capital and new markets. Every effort we put in now will repay many times over, as the past few years have already shown.
"In a rapidly changing world, the UK is a shining light for tech entrepreneurs, investors and employees, with jobs in the digital sector now accounting for 9 percent of its national economy. Some of the biggest UK successes; the 77 so-called tech unicorns, are $1bn valued companies now inspiring others, and there are an additional 95 tech businesses across the UK primed to be scaling over the coming years. The success of these businesses will be grounded in the UK tech ecosystem's ability to build deeper and broader knowledge networks between various constituents such as experienced investors and entrepreneurs and to truly fuel growth across the country."
UK growth powered by high-value scaleups
The UK is home to 95 companies valued at between $250-$800m in 2019 – the most ever on record – which represents a 27 percent increase from 2018, and significantly more than the UK's counterparts: France is home to (61) of these high value scaleups, Germany (46), and Israel (46).
These companies are important as they represent the pipeline of companies that are already disrupting the UK's tech "ecosystem", and show trends and patterns in the development of the UK tech sector. To date these companies have raised £6.75bn and employ 17,475 people.
45 percent of high value scaleups are based outside of the capital, including in wejo based in Chester, Bybox based in Coventry and Crisp Thinking based in Leeds.
These companies are set to become the tech unicorns of the future, according to Tech Nation. The UK is a world leader in producing tech unicorns – it's 3rd in the world, behind only the US and China. The UK is home to 77 tech unicorns, tech companies valued at over $1bn, and 8 tech unicorns were created in 2019.
London generated record investment among European cities – £6.8bn in 2019, a 67 percent increase on 2018, followed by Berlin (£3.5bn), and Paris (£2.4bn).
25 percent of Europe's top 20 highest investment tech cities are in the UK – Manchester, London, Bristol, Oxford and Cambridge. Furthermore, Manchester is the fastest growing European tech city, with an increase in investment of £48m to £181m from 2018 to 2019 – representing an increase of 277 percent.
In 2019, for every £1 invested into New Technologies (AI, robotics, cybersecurity, blockchain, IoT, virtual reality, and augmented reality) in Europe, 35 pence was invested into UK companies.
Artificial Intelligence:

The UK is 3rd in the world for the level of AI investment. From 2015 to 2019 UK AI companies raised £3.2bn of global AI investment, meanwhile the US raised £32bn, and China raised £12bn
The UK is the only country of the top 5 AI nations to have demonstrated consistent positive year-on-year growth for the last 5 years
Cybersecurity

The cybersecurity big hitters are the US and China, closely followed by Israel and the UK.
The UK raised £7.8bn in cybersecurity investment from 2015 to 2019. The US and China continue to dominate with total investment of £17.5bn and £16.4bn from 2015 to 2019
Blockchain

The UK comes in fourth in the world for blockchain investment at £8.9bn of investment for 2015 to 2019.
The US is third in the world for blockchain deals, at 249 compared to the US at 1,212 and China at 268
Healthtech

£1.18bn raised by UK healthtech companies In 2019 –  accounting for 61 percent of the total European market (£1.93bn)