May 21, 2015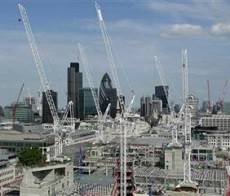 The total level of office construction in central London has increased over the past six months, fuelled by the greatest volume of new space to start since 2011, the latest Deloitte London Office Crane Survey has revealed. With a rise of 24 per cent over the past six months, a new wave of office construction in central London is under way across almost all submarkets. This comes at a time when the level of available office space is at its lowest for seven years, with current market conditions still suggesting a short-term supply shortage. However, the ramping up of new developments over the last six months has come too late to significantly alter the delivery of new space in 2015. TMT and the financial sector are driving up demand for more office space.
Advised Steve Johns, Head of City Leasing, Deloitte Real Estate: "While 2015 will be subdued with regard to the level of space completed, we believe that the volume of space under development will rebound further from now through to 2019."
According to the survey, office construction in central London rises for the first time in 18 months, where 31 new starts have added 4.4 million sq ft to the pipeline, with growth across all but two central London submarkets. There's also a 12 per cent rise in the volume of let space under construction, with 9.5 million sq ft of space going under construction across central London over the past six months.
The growth of construction has been spread across all but two (Southbank and Paddington) of the London submarkets. The biggest increases have been in Midtown and the West End, with activity up by 44 per cent and 24 per cent respectively. However, the City market continues to make up nearly half (48%) of total construction.
Says Jones: "As the tenant diversification of markets accelerates, available product choice is enabling and even encouraging firms to move to different parts of London, and a change in working practices is impacting what tenants need from their buildings."
Of the 3.5 million sq ft of space under construction that has been let, nearly half (49%) has been to TMT occupiers – more than the financial sector, which now accounts for 25 per cent. These two business sectors are driving the demand for new space.
Property companies are developing 50 per cent of the space under construction, down from 60 per cent in the last survey, while institutional developers have started two-thirds of the new space.
The London Office Crane Survey is available here.