September 28, 2016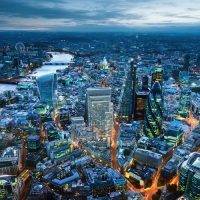 The UK's commercial property market remains robust in the wake of the vote to leave the European Union, although a weaker economic outlook may see some prices dip over the next two years, ratings agency Moody's claims in a new report. The news comes as commercial property fund Standard Life announced that it has reopened trading, which was suspended in the immediate aftermath of the Brexit vote.  Moody's said that the June 23 vote still has the potential to create significant uncertainty in the longer term, but that the fundamentals underpinning the UK commercial property market remain sound. Much will depend on the country's broader economic prospects, Moody's claims. If unemployment remains low and jobs growth continues, these two factors will do much to maintain demand for both domestic and commercial property although London's market may be affected even if the national economy is robust, as firms may choose to relocate anyway.
"While political risk will keep market uncertainty high, commercial property sector fundamentals will remain robust in Europe. That said, a weaker macro outlook would take the steam out of the UK commercial property market," said Ramzi Kattan, Vice President – Senior Analyst at Moody's.
"While we expect slower economic growth in the UK as a consequence of Brexit, we do not foresee a recession or – perhaps most importantly – a sharp increase in unemployment," the report states. "However we expect those roles to take many years to migrate and total numbers may be relatively small, given that employment in London has increased by roughly 35,000 a quarter since 2012 despite a somewhat subdued economic recovery. Nonetheless, the weaker macroeconomic outlook may take some of the steam out of UK property markets: in our base case, we see UK prices remaining broadly stable overall, but expect price decreases in particular instances of up to 10 percent depending on property type, quality and location."
Meanwhile, Standard Life Investments has announced plans to restart trading in its suspended property fund from October 17 after declaring in a statement that it believed the commercial property market had stabilised. In the immediate aftermath of the Brexit vote, Standard Life was the first to suspend trading as investors looked to divest their portfolios based on a fear that the market would collapse.