September 28, 2016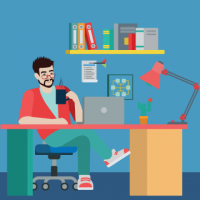 There were fewer job vacancies on offer in August, due to the traditional summer lull and the after effects of the Brexit vote, but employment levels were maintained by a rise in self-employment and the growing gig economy. The latest UK Job Market Report from Adzuna.co.uk reveals that 1,123,365 job vacancies were advertised in August, dropping 2.7 percent from 1,154,993 in July. The post-Brexit summer period of uncertainty, combined with a seasonal slowing in the market, lay behind this blip, but hiring is 0.6 percent higher than six months ago and the jobs market is proving resilient in the face of political uncertainty. Despite vacancies falling, the employment rate was 74.5 percent – its joint record highest level since comparable records started in 1971, according to the ONS. This has been partly propped up by the rise of the gig economy and growing self-employment as job-seekers look to alternative forms of employment amidst the growing entrepreneurial environment.
The number of jobseekers per vacancy has remained at a consistent level of 0.49, as competition for jobs within the UK has seen no major fluctuations despite Brexit cautions; yet the survey indicates huge regional variation in competition for jobs, ranging from 8.39 jobseekers per vacancy in Northern Ireland to just 0.25 in the South East.
Doug Monro, co-founder of Adzuna, comments: "Jobseekers looking to move into a new role are facing a slightly slimmer array of options. Hiring has certainly not ground to a halt as many predicted after Brexit, however, with more than a million openings on the market. This is a seasonal suspension, not a long-term lull. Working options provided by the gig economy are growing in popularity, while skilled workers in shortage areas like Tech and Engineering are hot property.
The good news for jobseekers is that advertised salaries rose for the first time in five months in August. The average salary stands at £32,784, up 0.3 percent from £32,688 in July. This marks the first salary rise since February 2016, and could signal the beginnings of a return to employers investing more to attract the best talent in the workforce.
Said Monro: "It's too early to sound a fanfare for the return of salary growth with wages still far below pre-recession levels, but jobseekers are seeing a modest salary boost. Inflation is expected to rise, so higher starting salaries will be critical to maintain real wages.
"The upcoming Autumn Statement is an opportunity for the new Chancellor to show his support for employers, boost confidence and herald a return to wage growth. He should encourage companies to invest in hiring and keep momentum building