July 22, 2019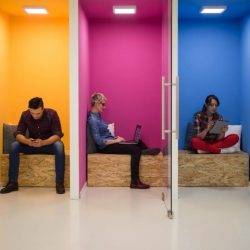 New analysis by economists at PwC claims that, if the UK could match Sweden in terms of its employment rates for women aged 25-54, older workers and the proportion of its young people not in employment, education or training, the potential boost to UK GDP could be as much as 12 percent, or around £250 billion at 2018 values. Although the UK labour market has been strong in recent years – the employment rate is at a record high of over 75 percent and unemployment is at its lowest level since the mid 1970s – new research from PwC indicates that performance is middling compared to other OECD economies. A new composite Labour Market Performance index, combining results from PwC's Youth Employment, Golden Age and Women in Work indices, finds the UK is 19th overall amongst OECD countries. Iceland and Sweden top the combined index rankings based on the latest available annual data for 2018.
The UK's highest ranking (13th) is in PwC's Women in Work Index, but its largest improvement in score since 2007 comes from the Golden Age Index, thanks to higher employment rates for older workers. According to the report, the UK now performs slightly above the OECD average in relation to workers aged under 25. This represents a slight improvement on 2017 and a significant improvement since 2007 in the PwC Youth Employment Index.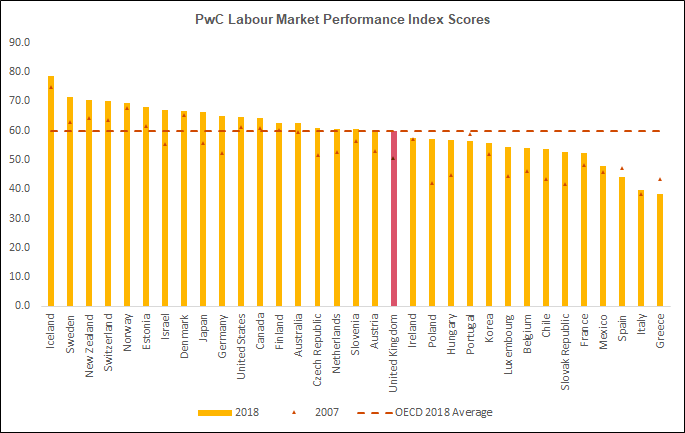 The UK has also significantly improved its performance for workers aged 55 and over since 2007, with particularly strong increases in employment rates for women in this age group. However, despite these gains, the UK is still only broadly in line with the OECD average on the PwC Golden Age index in 2018 as many other countries have also improved significantly since 2007.
Overall, the report suggests that labour markets have strengthened for all three demographic groups across the OECD over the past decade, but the gains have been largest and most consistent for women and older workers. Youth unemployment rates have come down in recent years after earlier large increases following the global financial crisis and the Eurozone crisis, but remain very high in some OECD countries, particularly in Southern Europe.
John Hawksworth, chief economist at PwC, commented: "If the UK were able to match labour market performance in Sweden – which ranks second in our overall index – for women, younger and older workers, the potential GDP boost to the economy would be hugely significant. However, realising these potential gains will require a mix of policies to overcome age and gender discrimination, boost vocational education and training for all age groups, help with retraining older workers to adapt to new technologies, further improve childcare provision and promote flexible working.
"Although successive UK governments have made progress on these areas over the past two decades, our analysis suggests there is still more to be done to match international best practice and maximise the UK's labour market potential. Businesses also need to play their part in making their staff match fit for the challenges and opportunities created by emerging digital technologies like AI and robotics. In this way, the UK could build upon its already strong recent job market performance, while also boosting long-term productivity growth, which has been the Achilles heel of the UK economy over the past decade."