April 2, 2015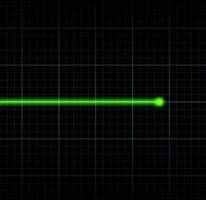 UK labour productivity continues to flatline in spite of the recent economic upturn, according to a new report from the Office for National Statistics. Overall productivity as measured by output per hour fell by 0.2 percent in the fourth quarter of 2014 compared with the previous quarter. In 2014 as a whole, labour productivity was little changed from 2013, and slightly lower than in 2007, prior to the economic downturn. As ever, the devil is in the detail. There were notable increases in productivity in both manufacturing and construction but the modest gains in service industries obscure the fact that there is a great deal of variation across sectors and also the fact that any gains reflect a greater number of hours worked rather than an increase in the overall number of people employed or their underlying productivity.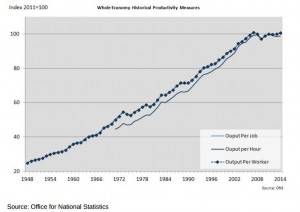 This edition contains revised historical estimates of labour productivity back to 1948, consistent with revisions to National Accounts introduced in Blue Book 2014. These estimates show that the absence of productivity growth in the seven years since 2007 is unprecedented in the post-war period. Despite weak productivity growth, unit labour costs have increased only modestly, by less than 1 percent per year on average over the last five years. This reflects low growth in labour costs per hour worked.
Key findings include:
Notwithstanding a fall in manufacturing output per hour in the final quarter of 2014, there was a broad-based and robust recovery in productivity across manufacturing in 2014 as a whole. Productivity also grew in 2014 across the construction industry.
Productivity across all service industries grew a little in the final quarter of 2014 and in 2014 as a whole. But productivity performance was more varied between different service industries: output per hour fell in six service industries and rose in five.
The financial services industry was an important contributor to productivity growth (especially relative to its weight) in the period prior to the economic downturn, but is yet to make a material positive contribution since the downturn.
Output per job estimates for services continued to grow in Q4 2014, climbing 0.7 percent on the quarter and 1.3 percent on the year.
The growth in output per hour for services was more subdued, returning a 0.2 percent increase on the quarter and a 0.7 percent increase on the year. The difference in growth rates for the two measures reflects hours worked growing faster in service based companies than the number of jobs.