May 16, 2014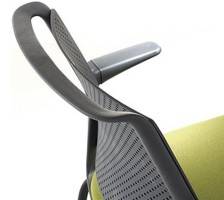 Global manufacturing executives rank the UK as one of the top destinations for future sales growth and profitability, according to KPMG's latest Global Manufacturing Outlook report published this week. This places the UK ahead of Germany, India and Japan and alongside China, beaten only by the US. The report also notes that the UK is leading the world in the growth of 3D printing. The survey of 460 executives representing business with an annual turnover in excess of $5 billion reveals that the UK is ranked third in terms of those countries in which global companies expect profit growth over the next two years. The focus on new technology and materials in the report reveals that 85 percent of UK manufacturers are already moving to 3D printing to reduce their product development life cycle, as British office furniture maker Senator did in prototyping its Ad-Lib range (pictured).
However, despite operating in one of the world's major business destinations, UK companies are falling behind their global peers in R&D spending, despite recent UK tax incentives. In addition, the report claims that supply chains are playing an active role in innovation, yet major concerns remain about poor IT systems limiting supply chain visibility and product profitability.
Overall the UK has risen to second place – ranked equally with China – as a country where global companies expect to derive the majority of their sales growth over the next two years. Only the US (45 per cent) beats the UK (17 per cent) which is ranked in joint second place with China (17 per cent). Global Manufacturing Outlook, which surveyed 460 executives globally, also reveals that in terms of a country where global companies expect profit growth in the next two years, the UK is ranked third (16 per cent), only marginally behind China (18 per cent), and marginally ahead of Germany (15 per cent).
"This is encouraging news for manufacturers in the UK and reflects the increasing confidence in the sector we have seen in recent months," comments Stephen Cooper, KPMG's UK head of industrial manufacturing. "The UK economy overall is showing positive economic signs, while comparatively, some of our overseas competitors are on more shaky ground.
"It is also interesting that the global companies expect a higher profit growth in the UK than Germany. Germany traditionally has a reputation of being efficient in manufacturing processes, so one would expect them to rate perhaps higher than the UK as a naturally more profitable country for investors."
The report also found that manufacturers were making a dramatic move to 3D printing technology to reduce product development life cycles. While 81 per cent of global companies said that they were using 3D printing in product development, this trend was even more marked with UK companies where 85 per cent said that 3D printing was used to speed up product development.