July 6, 2017
The persistently low productivity of UK workers has dropped back to pre-financial crisis levels, according to official figures. Hourly output fell 0.5 percent in the first three months of the year, the Office for National Statistics (ONS) reports in its latest update. At the end of 2016, productivity returned to the level seen before the 2008 recession. But it has now slipped back again and is 0.4 percent below the peak recorded at the end of 2007, according to the ONS. It was the first quarterly fall in productivity since the end of 2015, according to the ONS. Economists have consistently warned that the UK's low productivity continues to mean it lags behind its major trading partners such as the US, France and Germany.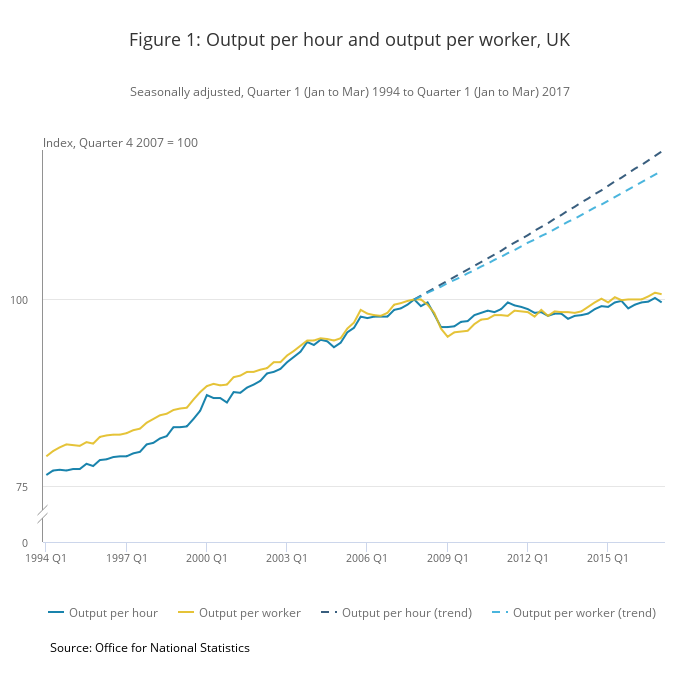 ONS head of productivity Philip Wales said: "UK labour productivity growth has struggled since the 2008 economic downturn, and the fall in the first quarter of 2017 brings to an end a recent run of quarters of positive growth."
Responding to the the ONS low productivity statistics, Acting Chief Economist at the CIPD, Ian Brinkley said: "Today's figures should act as a very sharp reminder to Government that Brexit is not the only challenge facing the UK. Unless more is done to tackle the nation's low productivity, people's wages and living standards will continue to fall and the UK will be ill-equipped to compete once we do leave the EU. Government must urgently review its productivity plan and ensure that its industrial strategy includes a much stronger focus on boosting investment in skills and efforts to boost managerial quality in partnership with employers, professional bodies and unions at a national, sector and local level."
Phil Sheridan, senior management director at Robert Half said: "The latest ONS results on productivity show no  signs of improvement, with figures revealing that output per hour worked in the UK has shrunk by 0.5 percent. With progress stagnating, more still needs to be done to increase UK productivity levels in line with other leading nations. However, for many businesses, that is easier said than done.
Productivity is an abstract concept that is often looked at in a global context. However, in real terms, the productivity levels of each country largely boil down to the performance of individual employees and the workforce as a whole. Our recent research shows that UK employees have one of the lowest levels of satisfaction and interest in their jobs. Yet the ability to motivate employees to work efficiently is critical to organisational success.
So, the challenge that UK businesses are facing is how to increase their output and get employees to work better and more efficiently by building a strong organisation with solid procedures that maintains a focus on motivating staff.
Part of the answer to improving productivity lies in the ability to constantly review teams and find new ways of working smarter. This could mean adding temporary headcount to reduce backlogs or support specific projects, helping staff to do more with existing resources or making improvements to processes and infrastructure using new technologies.
Productivity continues to head in the wrong direction so businesses cannot afford to be complacent. All organisations need to look at their internal policies and culture to identify the steps they can take to boost efficiency by building a workforce that is more engaged, motivated and working effectively to deliver results over the long-term."