February 28, 2020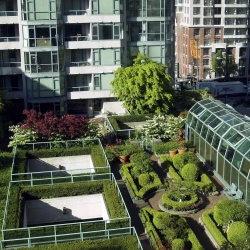 Nearly half of UK workers admit to being greener at home than they are in the office, although more and more are realising the importance of green habits, research by Instant Offices has suggested. With the government committed to achieving net zero emissions by 2050, the workspace innovation company has been investigating what more employers can do to help to lead the way by instituting greener practices.
The research highlights four trends that it says can benefit not just the environment but also provide a more attractive workplace for employees:
Green roofs and rooftop gardens
Green roofs can reduce energy use and costs by providing insulation. They also serve as an attractive location for rest breaks and meetings. According to the UK Green Building Council, increasing natural spaces can increase property values by up to 25 percent, while promoting employee wellbeing can improve financial performance by up to 10 percent and reduce sick days by 27 percent.
Banning single-use plastics
Sheffield-based company Intelligent Hand Dryers has banned all single-use plastics from its offices, including disposable coffee cups
The government is due to ban some throwaway items such as plastic straws, drink stirrers and cotton buds from April 2020 to stem the flow of waste and promote the use of recyclable materials. One company that has gone further than this is a Sheffield-based company, Intelligent Hand Dryers, which has banned all single-use plastics from its offices, including disposable coffee cups with an inner plastic lining, water bottles and sandwich packets with plastic windows.
Renewable energy and net-zero buildings
Most renewable energy sources such as solar panels produce little to no global warming emissions, while a zero-energy building uses the same amount of energy annually as the amount of renewable energy created on site. London's mayor has signed a commitment for all new buildings in the capital to be net zero carbon by 2030, as part of UK efforts to meet targets set by the Paris Climate Agreement.
What can the UK learn from the world's greenest cities?
As part of its research, Instant Offices says it took a look at five of the world's greenest cities to try and uncover the secret to creating a more sustainable urban environment. It claims better designed cities could save the UK economy an estimated £15.3 billion by 2050.
Copenhagen
Denmark's capital is aiming to become the world's first carbon-neutral city by 2025. Green roofing has been integrated into urban developments since 2010 and all public transport is to shift from diesel to electric engines by the end of 2019. Also, the municipality of Copenhagen aims to plant 100,000 trees by the end of 2025.
Vancouver
Although this is among Canada's most densely populated cities, it is also one of the lowest-emission cities in North America. Its ecological footprint has been reduced by 20 percent since 2006 and it is aiming to become the world's greenest city by 2020 through the work of the Green City Action Team. It also aims to get 100 percent of its energy from renewable sources by 2050.
San Francisco
This is the first US city to ban the sale of plastic shopping bags and plastic water bottles. It is currently diverting 80 percent of waste away from landfill, with plans to increase this to 100 percent by 2020. More than half the city's buses and light railways are zero emission and it is aiming to go waste free by the end of 2020.
Singapore
This city state has approximately 47 percent green cover. It incorporates green roofs and gardens into architecture across the city and its NEWater purification process meets up to 40 percent of water demand, with aims to meet 85 percent by 2060. Singapore has mandated green buildings since 2008 and it is home to the world's largest vertical garden.
Stockholm
This was the first city to be named European Green Capital by the EU Commission (in 2010). More than 80 percent of hotels are eco-certified and the airport is entirely carbon neutral. It aims to be completely fossil-fuel free by 2050.
Image by ArtTower