February 27, 2020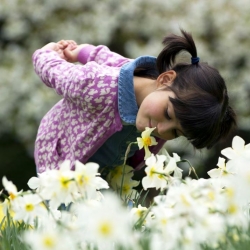 Following the recent report outlining the mental health benefits of spending time outdoors, The National Trust has published its own research on the wellbeing impacts of the natural world in partnership with the University of Derby, which shows those with an active 'engagement' with nature enjoy significant health benefits and are more likely to address environmental issues. The research has prompted a new initiative focussed on a series of activities that will help people engage more with their natural surroundings. This includes a new weekly guide to every day nature connection and a public awareness campaign, including billboards by roads and in railway stations, on the first day of spring.
The launch comes a day after Parliament debated the Environment Bill – the Government's flagship new law to help restore nature.  And, last October, the State of Nature report revealed why this is needed as 41 percent of species are in decline since 1970 and that 15 percent of species are under threat from extinction, painting a bleak picture for wildlife in the UK.   But, new research published today by the conservation charity shows that those who make small, every day connections with nature are much more likely to take action to protect it.
Some of the simple actions to help nature that were examined in the study include putting food out for wild animals such as birds, making homes for wildlife, planting pollinator plants and picking up litter. Moreover, simple activities such as actively listening to birdsong, smelling wildflowers and watching butterflies and bees are activities that are strongly linked with taking action. However, research shows that only a fraction of the population take part in these simple pleasures.
For adults, in the past year:
79 percent of adults infrequently or never smelled wild flowers
62 percent either infrequently or never listened to birdsong
57 percent rarely or never watched the sunrise
Moreover,
Only 6 percent of often celebrated natural events (such as longest day of the year, harvest etc)
Only 27 percent often watched clouds
Only 38 percent often stopped to appreciate the stars or the moon in the sky
The National Trust is launching a week-by-week guide to help people tune in to the nature around them.  The equivalent of a 'couch to 5k' for nature, the guide encourages bite-size activities, taking from only 20 seconds to 20 minutes, which can be easily squeezed into busy, daily life in to help people connect and take action that, collectively, can halt nature's decline.
Helping people improve their connection with nature is one of the commitments made by the Trust in its 125th year, which also include planting or establishing 20 million trees, establishing twenty 'green corridors' into urban areas and working towards becoming carbon net zero by 2030.
Tips include simple every day things, like watching the sunrise, listening to birdsong and watching butterflies and bees, as well as activities that take more time, such as planting something to grow in your garden or on your windowsill, sketching a flower or animal or building a home for animals such as hedgehogs.
Professor Miles Richardson Head of the Nature Connectedness Research Group at the University of Derby said: "This report for the first time demonstrates that simple everyday acts of noticing nature that build a closer connection are key to people taking action for nature. In our analysis we discovered that the kind of connection that makes the difference involves more than simply spending time outdoors – instead it's about 'actively tuning in to nature, regularly spending simple, bite-size moments relating to nature around you'. Every bit of connection makes a difference.  If we're to tackle the nature crisis, then a closer connection and new relationship with nature is needed across the majority of the population."
Health benefits
The researchers also found that when people are prompted to 'notice nature' each day they report a range of "in the moment" benefits including feeling more mindful, being able to slow down the pace of life, and an improved connection with loved ones.
Small, everyday interventions in peoples' lives can lead to real meaningful change that could add up to make a huge difference
Andy Beer, Noticing Nature Project Lead at the National Trust said: "With the current nature crisis, people may feel powerless in the face of the daunting task of helping halt its decline.  But evidence shows that small, everyday interventions in peoples' lives can lead to real meaningful change that could add up to make a huge difference. Daily 'doses' of nature are vital to making this connection.  The fantastic thing about it is that it's not hard for people to do. Whether it's on the way  to school or work, on a day out with family or friends or simply spending time at home – there are many ways we can all take time to actively experience nature. For instance, watching clouds, watching wildlife, watching a sunrise or staying up to look at the moon or spotting stars, are all part of becoming more connected – and it's not just about becoming more conservation-minded. It's great for your wellbeing too. Over the coming months we'll be continuing to develop activities for people to enjoy each season and we hope to inspire people of all ages to get involved."
The research also found that nature connectedness and simple everyday acts of noticing nature are linked with higher wellbeing:
The most nature connected adults (the top 25 percent) felt that the things they do in their life were more worthwhile (19 percent higher than the rest of the population)
The most nature connected adults reported higher levels of happiness (15 percent more than the rest of the population)
Nature connectedness is associated with lower levels of depression and anxiety.
Other findings from the research include:
There is widespread concern about decline in nature: Around three quarters (73 percent) of children and four out of five adults (81 percent) say they are concerned
Almost everyone agrees that it's important that nature has strong protections – 86 percent of adult agree that "it's important that there are strong laws to protect nature in the UK"
People are noticing a decline in nature – just over half (52 percent) of adults say they have noticed a decline in their life time
Levels of concern about nature decline are growing – increased concern is highest among younger age groups with 55 percent of children and 56 percent of those aged 16-24 agreeing they are more concerned than a year ago
But this is not yet translated into consistent and regular individual action – for example only one in three children (34 percent) pick up litter to help nature have a better home, and (32 percent) of adults said when I see litter, I pick it up.  Amongst adults with access to a garden, allotment or community garden, only 4 in 10 (39 percent) often maintain plants with berries or fruits for wildlife.