February 28, 2020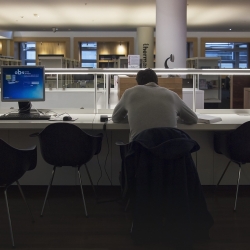 UK employers claimed £35 billion of free labour last year because of workers doing unpaid overtime, according to an analysis of official statistics published today by the TUC. More than 5 million people put in an average of 7.6 hours a week in unpaid overtime during 2019, it claims. On average, that equates to having £6,828 taken out of individual pay packets.
Today is the TUC's 16th annual Work Your Proper Hours Day, marking the fact that the average person doing unpaid overtime has effectively worked this year so far for free. To mark the day, the TUC is encouraging workers to take a proper lunch break and leave on time. Employers should adopt good practice and take steps to manage down unpaid overtime hours, it says.
As Britain begins trade negotiations with the EU, the TUC is also calling for UK workers' rights – including the Working Time Directive – to be protected in any deal.
TUC General Secretary Frances O'Grady said: "The government needs to crack down on Britain's long-hours culture. Too many bosses are getting away with stealing their workers' time. But instead of strengthening protections, ministers want to use Brexit as an excuse to chuck out the limited protections we already have. Overworking staff hurts productivity, leaves workers stressed and exhausted and eats into time that should be spent with family and friends. That's why any EU Trade deal needs to guarantee that employment rights, like those covered by the Working Time Directive, are protected in the future."
For its analysis, the TUC used unpublished data from the Office for National Statistics (ONS) Labour Force Survey (July to September 2019) and the ONS Annual Survey of Hours and Earnings 2019. These are the key results broken down by gender, sector, occupation and region:
Gender
The TUC study suggests that men work just over a billion unpaid overtime hours a year (1,089 million hours) compared to 0.94 billion hours for women (941 million hours). More than 1 in 6 men (18.3 percent) work unpaid overtime, averaging 8.2 hours per week. A similar percentage of women (18.8 percent) also put in unpaid hours. Even though many women work part-time, the average for those undertaking unpaid overtime is 7.0 hours a week.
Chief executives work the most unpaid hours on average each week (12.5 hours), followed by teachers and educational professionals (11.9 hours).
Public sector
One in 4 public sector employees worked unpaid overtime, compared to around 1 in 6 employees in the private sector (16.4 percent). Public sector workers contributed £13.2 billion of unpaid overtime last year. They make up just a quarter of total employees but produce more than a third of all unpaid overtime.
Occupations
Chief executives work the most unpaid hours on average each week (12.5 hours), followed by teachers and educational professionals (11.9 hours).
Region
London relies most on free work, with almost 1 in 4 workers (24 percent) doing unpaid overtime, compared to the national average of fewer than one in five (19 percent). Employees in London worked more than a third of a billion free hours (£385 million) last year. The South East is next, with 22 percent working unpaid overtime, while 19 percent in the South West and 18 percent in the Eastern Region and West Midlands are working free hours.