January 7, 2019
The UK's workplace happiness rating comes in at tenth in a new study published by Engaging Works. Austria, The Netherlands, United States and Germany are all above the UK in rating workplace happiness.  The UK's average happiness score of 6.43 lags behind Austria's 7.67. Engaging Works has surveyed over 10,000 employees globally with the workplace happiness survey.  Its' founder, Lord Mark Price, is calling for the Government to face up to the UK's poor productivity levels and understand the importance of getting the UK's workforce more engaged and happier.
Commenting on the findings, former Minister for Trade and Investment and ex MD of Waitrose, Lord Price says, 'what is perhaps most striking is that eight of the countries which sit ahead of the UK in tenth place also sit above the UK for productivity, where the UK is a global laggard.  In a post Brexit free market, open trading, world improving our productivity through having a more engaged and happier workforce will become even more vital if we are to become globally competitive.'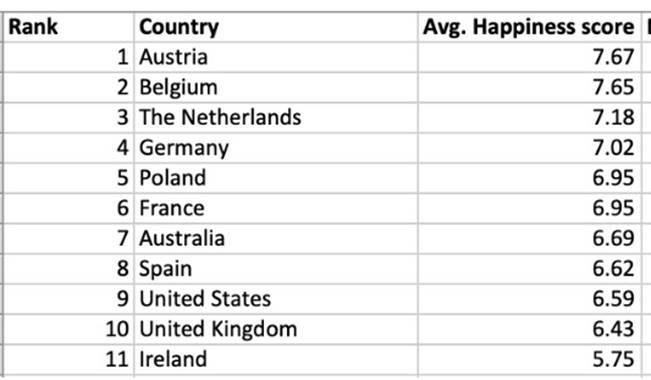 On a positive note, the UK's workplace happiness is on an upwards trajectory with it increasing in 2018 compared with the year before.  There are also areas where the UK scores above the global average, in information sharing, development and having sufficient resources.  But the UK is lower for: pride in our organisations, feeling respected, fairly rewarded, views being heard, doing something worthwhile and workplace relationships.
Other findings include:
2018 saw women move ahead of men for workplace happiness although both sexes saw marked improvements over the previous year
Millennials continued to feel less happy at work in 2018 than their older colleagues, although both groups improved
Managers continue to be happier at work than non managers. And although the results for both groups improved it was most marked for non managers who on the average of 2018 moved from being 65 basis points behind to just 9