October 4, 2017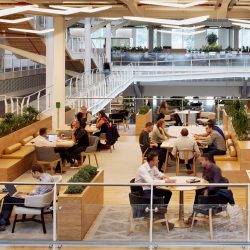 London workplaces dominated at this year's annual British Council for Offices National Awards dinner last night as a record six awards went to offices in the capital. London's Sky Central was awarded the Best of the Best workplace at the British Council for Offices' (BCO) annual National Awards in London last night. The office was also recognised as the Best Corporate Workplace in the UK, joining a list of six other award winners recognised for excellence in office space. Sky Central was praised by judges for bringing 3,500 of Sky's workforce under one roof at their landscaped campus near Heathrow, West London. The judges were impressed by the building's eighteen 200-person workspace neighbourhoods, arranged around six cores that resurrect 'Büro Landschaft' inspired planning rules. Judges also commended the vast array of services and amenities on offer, including six restaurants and cafes, a 200-seat state of the art cinema, 200-person event space and a technology 'lounge'. We know all about Sky Central and a full write up from Sky's then Workplace Director Neil Usher can be seen here.
The full list of winners was:
'Best of the Best' & Corporate Workplace: Sky Central, Isleworth, Middlesex
Commercial Workplace: 8 Finsbury Circus, London
Refurbished/Recycled Workplace: 20 Eastbourne Terrace, London
Innovation: Sea Containers, London
Fit Out of Workplace: The Estée Lauder Companies, London
Projects up to 1,500 sq.m: Concordia Works, Leeds
Test of Time: Birmingham City Council, Birmingham
8 Finsbury Circus impressed judges with its two distinct frontages: one addressing Finsbury Circus with an elegant calm insertion into a curving elevation, whilst the other incorporates the original façade overlooking the busy route to Liverpool Street Station. Across town, 20 Eastbourne Terrace in Paddington shone as judges highlighted that the project transformed a tired 1960s building into a modern and relaxing workplace that would compare to any new development. They praised the clever use of natural materials to create a calm environment for the occupants, with the business lounge, café and the roof terrace providing informal and tranquil environments to work, meet or relax.
Transformation was also key to the success of Sea Containers, which won the Innovation award and was hailed as a triumph by the BCO judging panel. Once a dilapidated and unloved building, the building now houses Ogilvy and Mather's ten 'semi-autonomous' companies alongside the 350 bedroom Mondrian London hotel and a 150 Curzon seat cinema, with all occupants sharing a ground floor that is a hive of activity and already an established London 'location'. North of the River, The Estée Lauder Companies building impressed the judges by uniting over 25 beauty brands under one roof, in an open and flexible environment designed to attract and retain talent. Set over 10 floors, the judges praised the fit out for creating a transparent and adaptable workspace that brings the brands together whilst preserving their individual identities.
Outside of London, Concordia Works in Leeds was awarded for Projects under 1,500 sq.m, with judges praising the fusion of original features and modern design. The judges added that Boultbee Brooks' £1.97 million investment had succeeded in creating a dynamic hi-spec loft-style workspace. Further South, Birmingham City Council's office scooped the Test of Time award. The judges highlighted that as a direct result of the depth of research and engagement into planning the design, there have been no design changes since occupation, which they noted as highly impressive given the large scale of the project.
Nigel Clark, Chair of the BCO National Judging Panel, commented: "This year's winners are a study in how Britain has maintained its position at the forefront of the global office sector. Each building is both adaptable and robust, providing occupiers with the flexibility they need to ensure the wellbeing and productivity of their workforce. Sky Central, the Best of the Best award winner, is a prime example. The building provides ample amenities to Sky's large workforce, whilst ensuring a productive environment by breaking the larger space down into distinct workplace neighbourhoods."
Richard Kauntze, Chief Executive of the BCO, commented: "This year's awards nominees have impressed across the board with their commitment to sustainable and innovative design. London has played host to a record number of award winners this year, affirming why businesses from across the world come to the capital. Congratulations to all nominees, our highly commended entrants and, of course, the award winners themselves."
For more information about the awards and the winners this year visit the BCO website . Entries for 2018's BCO Regional and National Awards programme open on Wednesday 4 October 2017; the closing deadline is: Friday 24 November 2017.