September 4, 2015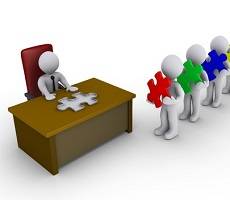 New research from the CIPD has revealed that both male and female managers tend to favour men over women in hiring decisions; while there is an unconscious tendency to hire people like ourselves. The report A Head for Hiring: The Behavioural Science of Recruitment shows that initial perceptions of whether a person will be a good fit can be determined by factors which have no real impact on performance, including visual, cultural, demographic and situational factors. Worryingly, identical CVs seem to get more call-backs when the applicant is typically deemed to have a 'white' name as opposed to one that can obviously be associated with an ethnic minority. The report makes a number of recommendations to ensure that employers have consistent hiring practices.  Meanwhile, Acas has also published two new free practical guides for employers and managers on how to recruit and settle in staff.
Jonny Gifford, Research Adviser at the CIPD, commented: "So many recruitment decisions are based on a 'gut instinct' or what feels intuitively right, and this is a real problem. We like to think we can spot talent, but insights from behavioural science show that our decision-making is actually highly prone to 'sloppy thinking' and bias.
"Even highly trained assessors make systematically different decisions depending on the time of day and their 'cognitive load' or 'brain-strain' at that point in time. Regardless of the level of resources and techniques one has to work with, there are steps that employers and recruiters can take to ensure that candidates get a fair recruitment experience and that employers find the person that best fits the role and can drive business performance."
The new Acas guides give employers and managers practical advice on how to successfully run a recruitment or induction programme, and include free tools, templates and check lists.
Acas Chief Executive Officer, Anne Sharp, said: "As workplace experts, we know that recruiting and settling in staff effectively and fairly brings long term benefits to the team, managers and the business as a whole.
"Our free online guides will help employers understand how to get recruitment and induction right."
The full Acas guides on Recruitment and Induction can be downloaded here.