September 7, 2022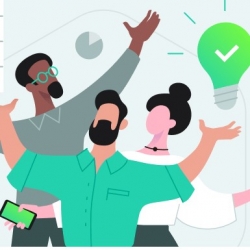 The pivot to remote work over the past few years has undoubtedly had its benefits, with many of us finding new ways to be productive and collaborate with our peers. This includes taking advantage of new workplace trends such as 'workcations', where people can work from another country, flexible working, and four-day work weeks where possible. Yet, this preference to work flexibly blurs the distinction between life and work, which will ultimately take its toll on the mental health and wellbeing of employees.
With rising inflation rates and the cost-of-living crisis, employee wellbeing and mental health should be a top priority for businesses. This is even more important as overworked employees now resort to 'quiet quitting' in search of a better work-life balance. This involves people doing what their job demands and nothing more – essentially, quitting doing any extra work to put boundaries in place and support their wellbeing.
In fact, a study on mental health in the workplace by Deloitte found that 28 percent of employees either left their jobs in 2021 or are planning to leave their jobs in 2022, with 61 percent citing poor mental health as the reason they are leaving. The results show a similar pattern amongst the younger generation, a demographic that will make up the majority of the future workforce, with 21 percent of young people saying they are planning to leave their jobs in 2022, and 65 percent of those claiming the decision is being driven by poor mental health.
As a result, the overall employee experience (EX) has been rapidly creeping up the ladder of the CEO's agenda due to the need to put people-first, both from a wellbeing point of view and because it drives productivity and talent retention. Leaders need to make sure they are securing an accurate understanding of employee wellbeing, as well as setting a good example themselves by treating their mental and physical health as a priority before encouraging employees to do the same.
Employees are unable to switch off
One way to achieve this is to encourage employees to take breaks from work. This has a clear positive impact on mental health and wellbeing. According to recent research conducted by Qualtrics, 70 percent of employees say they come back to work feeling very or somewhat rejuvenated after taking holiday – most likely because they are given the space they need to switch off from their jobs.
The problem is that the same research revealed that an overwhelming 60 percent of employees feel pressured to respond to emails or answer phone calls whilst on holiday, and 62 percent still had unused holidays left at the end of 2021.
Business leaders need to make these boundaries clearer and play an active role in making it acceptable for employees to fully switch off when on holiday. People should be able to focus on their wellbeing without fear of the growing number of unread emails or letting their team down.
This has to be a priority – a workplace culture that doesn't support or sustain employee wellbeing will ultimately lead to burnout and low engagement, which has an adverse effect on productivity, retention, and the business' bottom line.
Positive EX has a knock-on effect
As organisations try to get back to some sense of normality, some employers have slipped into quick fixes for a much wider issue. For example, many organisations are choosing to address burnout with benefits, such as a mental health app subscription, rather than doing the hard work at the root of the problem.
To prioritise the EX, organisations must understand how employees are thinking and feeling at various touchpoints, and then take action based on this – putting tangible solutions in place to improve employee wellbeing and resilience. For example, by ensuring employees are taking holiday during the times they need it most, employers can mitigate the effects of burnout, and ultimately retain talent.
Equally employees also have an important role to play in dictating a positive workplace culture in proactively establishing their personal boundaries with work, communicating with their managers about workload, and taking ownership of their time outside of work.
Ultimately, the experiences companies deliver to their employees today are vital to their ability to win and retain talent, and to differentiate themselves as an employer of choice.