September 6, 2022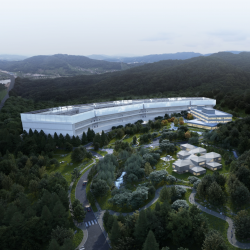 A new exhibition has shone a light on the often overlooked building typology of the data centre. The show, entitled Power House running to 28 February and curated by design journalist Clare Dowdy looks at the architecture of data centres, showcasing proposals and existing designs by architecture practices around the globe, from vast complexes in remote locations, to retrofitted buildings in urban centres.
As well as international locations, the exhibition focuses on London's data centres, which was overseen by Dezeen's Tom Ravenscroft. He studied them as part of a Masters in Architectural History and Criticism, which saw him tracking Googlemaps and pavement pounding to confirm their exact location.
He says: "Data centres are the most interesting and important new building typology in a generation, yet they are paid almost no architectural attention. In London and other cities, they tend to be hidden in plain sight, but these secretive buildings deserve more attention!"
Dowdy adds, "Data centres power modern life and yet they're rarely considered as pieces of architecture. But as they mushroom across the globe, it's time we thought of data centres as a peculiar and peculiarly challenging, new building typology."
Reflecting consumers', businesses' and the public sector's reliance on the digital economy – by 2025, worldwide data traffic will have grown by 61% to 175 zettabytes, with roughly 75% of the population having at least one data interaction every 18 seconds – aesthetics and architecture might play a greater role as the centres are built nearer centres of population and commerce. Dowdy continues, "My impression is that as data centres proliferate and more of them are built in built-up areas, their aesthetic will have to be more considered as they will become a significant part of the urban fabric."
This is a view borne out by the examples featured in the exhibition, which include the Belvedere Data Centre in London by architects Scott Brownrigg (pictured below), AM4 Equinix in Amsterdam by Benthem Crouwel Architects and also a facility in the historic Bamberger Building (Macy's) in Newark, US, a former department store. At the other end of the spectrum, location-wise, there are hyperscale facilities, such as those increasingly peppering the Irish countryside, as Ireland becomes the data centre capital of Europe. Meanwhile in the Far East, a new 170,000sqm, 11- storey building, sits on 12 acres of land in Singapore's Tanjong Kling Data Centre Park and is about to become the world's largest data centre under one roof.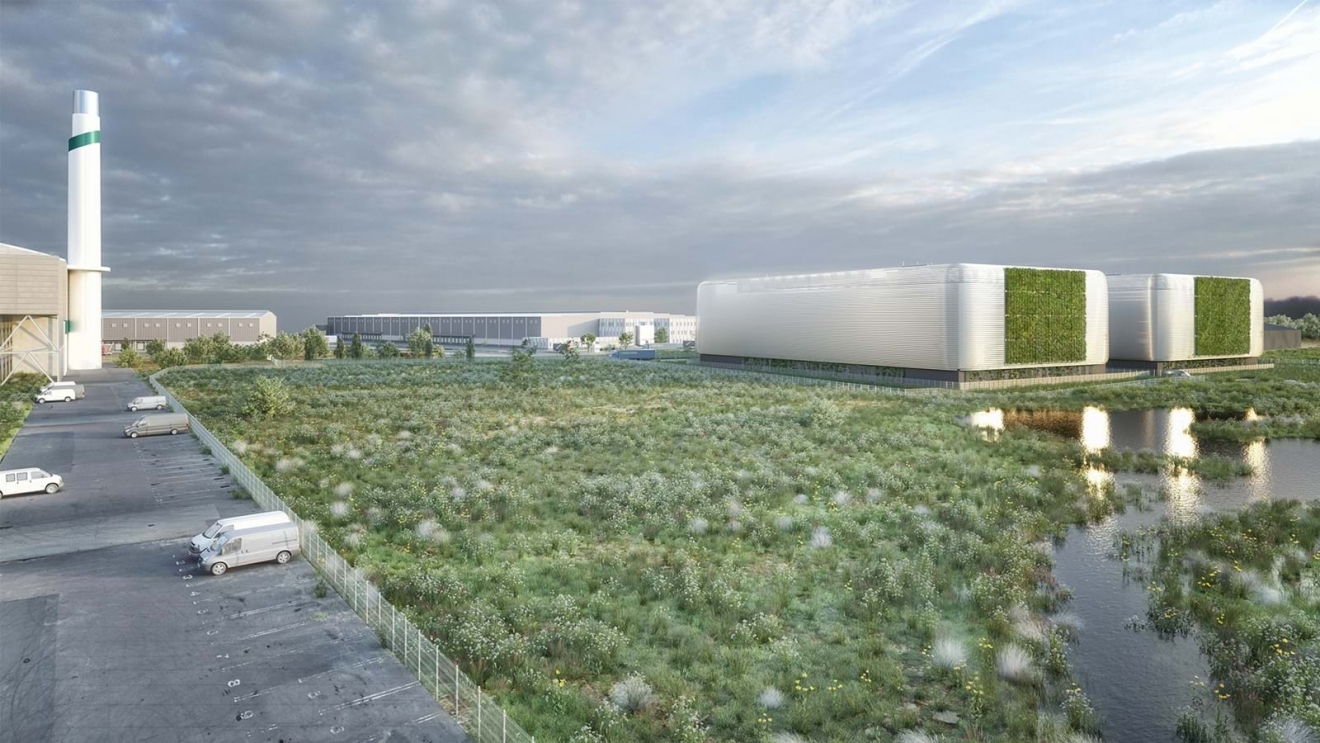 "The aesthetic evolution of data centre design will be influenced by whether a facility is in an urban or rural location, whether it is populated of unpopulated with human personnel, the advanced technology, processes and energy consumption contained within its performance envelope," says Iain Macdonald, Professor, Instance of Uncertain Spaces at the ArtEZ University of the Arts in Arnhem. He continues, "This create a contemporary architecture requiring public acceptance that its form, fabric, technology and branding will be driven by non cultural entities."
Sustainability is another key driver in terms of data centre architecture. Tom Bishop, director with cost consultancy Concert, which has worked on a number of data centre schemes says, "Data centres are an opportunity to regenerate areas through sustainable designs and environmental protection. The core components of a data centre such as resilience, efficiency and security will always remain a constant but as Local Authorities continue to understand this Class Use more data centres will have an key role in enhancing the built environment and their surroundings."
Architects are already making efforts to introduce a more human-scale aesthetic to their data centre designs
By way of example, Concert has been appointed by Ark Data Centres as project Manager and cost Manager on its Union Park project, a new data centre campus in Hayes, west London. This project includes onsite solar generation, air cooling for IT equipment, rainwater harvesting to minimise water taken from the mains, a 'living' roof and walls, and electric car charging points. These features will successfully reduce the environmental impact of the facility, reduce the carbon footprint, and help contribute to the government goal of a zero-carbon economy by 2030. Earlier in 2021 Concert also announced the practical completion of the Meridian Park data centre in north London. Sustainability is a priority here – for instance the scheme draws electrical power generated by Edmonton EcoPark, which turns waste into low-carbon energy.
Robert Thorogood, client development director with engineering firm HDR drills into some of the detail, "Data centres have become more efficient through the selection of more efficient cooling systems such as direct air cooling. This has already had the impact of changing the visual impact of data centre buildings with more louvring of facades to allow the buildings to 'breathe'. He adds that there is much more of a focus on the source of power or energy ,"Most data centre operators have already signed up to sourcing renewable energy offsite, but now there is more focus on how data centre sites can incorporate either all or part of the power source on site. The choice of fuel source or format is still being reviewed, but essentially data centres are likely to have to change to accommodate energy production on site."
This, he says, will directly influence the aesthetic of future data centres with energy centres being separate buildings or being attached to the side of the data centre. The visual impact and massing of data centres developments will therefore be impacted by this in years to come.
The Power House exhibition features some exciting future data centre locations, This includes Arup's proposals to retrofit disused oil rigs, as well as examples of existing centres located underground – in mines, disused bunkers and under the sea. Says Clare Dowdy finally, "Some architects are already making efforts to introduce a more human-scale aesthetic to their data centre designs. The hope is that their clients give these ideas the go-ahead."
This article (with lots of lovely images) appears in issue 9 of IN Magazine
Image: The Gak Sejong Project by JUNGLIM Architecture in Sejong City, South Korea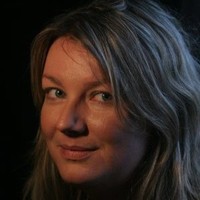 Helen Parton is head of content at Informare, and an internationally renowned writer, commentator, curator and editorial consultant within the design, architecture and built environment sectors.