November 6, 2023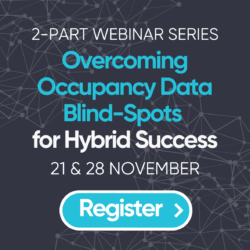 What does it take to make hybrid working a success? Many workplace leaders are asking themselves this question as real estate portfolios shrink and companies struggle to get employees back in the office. The answer is a data-powered framework for making high-impact workplace decisions like: how much space workplaces actually need; how workplaces should be designed; and what hybrid working policies should look like.
Many workplace leaders are relying on badge swipes, walkthroughs and sensors for their data, only to find themselves facing occupancy data blind spots.
Join HubStar's upcoming two-part webinar on Tuesday the 21st and 28th of November at 4 PM BST/ 11 AM EDT to explore why occupancy data blind spots occur, how to turn them into actionable insights and how to make workplace right-sizing and design decisions with confidence and certainty.
HubStar is a global company with operations in the US, UK, Europe and APAC. The company provides a next-generation dynamic workplace platform to drive productivity, collaboration and workplace experience while reducing real estate costs. HubStar helps thousands of teams in over 60 countries create dynamic workplaces. For more information visit hubstar.com
You can also access hundreds of stories about hybrid working and other aspects of workplace flexibility in the Insight archives here.