March 6, 2017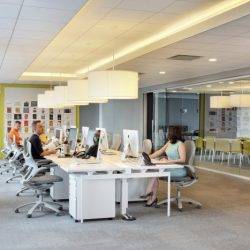 Younger workers are less and less loyal to employers, which is driving firms to place greater emphasis on benefits, empowerment and a better working environment, according to a study from ReportLinker. The small scale online study of 500 people found that Millennials are less likely than older generations to say they're highly committed to their employer, with just 40 percent saying they somewhat agree with this statement compared to 66 percent of older workers say they're highly committed to their organisation. The report concludes that this is encouraging employers to introduce new ways of winning the loyalty of employees. For example, 87 percent of employees who are more involved in decision-making are also more likely to say they are committed to their employers although, as always, we should be wary of the distinction between correlation and causation.
Similarly, 83 percent of US respondents who are offered opportunities to take on new challenges are more likely to stay with their employer. Seventy-nine percent of US respondents to the survey say they believe their employer encourages creativity and innovation. This, in turn, makes them more loyal: 78 percent of these employees say they're committed to their employer.
The American work ethic isn't a myth, according to the study. Three-quarters of Americans agree with the idea that the more they work, the more successful they will be. 76 percent say they work more than 36 hours a week. Men are more likely to put in more hours on the job than women, with 55 percent saying they worked more than 40 hours a week. By contrast, women are more likely to work 36-40 hours per week in order to balance their work and family life.
When asked which perks their employers offer, employees most frequently mention healthcare (68 percent of mentions), followed by paid family sick leave or for family deaths (54 percent of all mentions), flexible hours to balance work and personal life (47 percent of all mentions) and career development services (39 percent of all mentions), according to ReportLinker. Both healthcare and paid family leave are offered more frequently to employees who work more than 36 hours a week (76 percent and 61 percent of mentions, respectively).
While just 11 percent of employees say their employers currently offer flexible working, 22 percent of respondents ranked this perk first among perks they deemed essential. Among those whose employers allow them to work flexibly, 70 percent say they can as often as they want. Employees also point to other perks as being essential, notably parental leave, followed by access to free snacks, gym memberships and nap pods or relaxing areas.
By eliminating cubicles and offices with doors, businesses encouraged collaboration among employees according to the report. More than 90 percent of respondents say they believe their environment boosts their productivity.
Image: McCann NewYork, designed by Gensler