February 14, 2014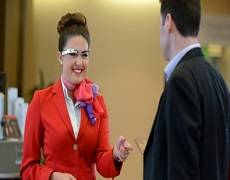 It's already been predicted that Smart Glasses will be a boon to technicians, engineers and healthcare workers, as well as useful interactive, hands-free devices for office staff. Another obvious application for wearable technology is in customer services. Virgin Atlantic is applying the technology to deliver the airline industry's most high tech and personalised customer service yet. Working with air-transport specialist SITA, it's the first airline to test how the technology can best be used to enhance customers' travel experiences and improve efficiency. During a six week pilot scheme, concierge staff in Virgin Atlantic Upper Class Wing at London Heathrow airport will use wearable technology to greet customers by name and begin the check in process. The benefits to consumers and the business will be evaluated ahead of a potential wider roll-out in the future.
From the minute Upper Class passengers step out of their chauffeured limousine at Heathrow's T3 and are greeted by name, Virgin Atlantic staff wearing the technology will start the check-in process. At the same time, staff will be able to update passengers on their latest flight information, weather and local events at their destination and translate any foreign language information. In future, the technology could also tell Virgin Atlantic staff their passengers' dietary and refreshment preferences.
Virgin Atlantic is also trying out a range of technological advancements, including testing iBeacon with its Upper Class passengers at Heathrow. This new low-powered Bluetooth transmitter can notify nearby iOS Apple devices of nearby services, discounts and updates on their flight boarding schedules.
Dave Bulman Director of IT, Virgin Atlantic, said: "Many of our passengers now use their mobiles on board, particularly to send emails or check Facebook.  We continue to look ahead and research innovations that customers might only dream of today.  The whole industry needs to listen to what these passengers are calling for, and keep innovating to bring a return to the golden age of air travel. Flying should be a pleasure not a chore."