November 17, 2020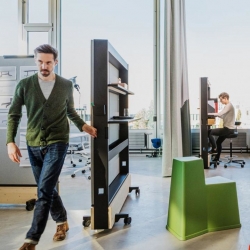 After 20 years in their Clerkenwell showroom, global design brand Vitra is set to move into a new space in Rolling Stock Yard, Kings Cross, which will open in January 2021. The temporary Kings Cross space will host a working installation looking at new office solutions for more flexible working. Vitra will open a new permanent UK flagship showroom in the Summer of 2021 and will announce the location in the coming months. The move comes as Vitra's lease on its current Clerkenwell space draws to an end.
The Vitra Rolling Stock Yard location will showcase a radical concept for the future of workspaces in the post-Covid era.  Vitra's agile product portfolio will be on display including Dancing Walls (pictured), Multi Lane, Soft Work and other contextual elements. The installation will also present the most iconic products from the Vitra and Artek Collections.
Jonathan Parr, Vitra's new Market Leader for UK and Ireland as of January 2021 comments, "This is an exciting time for Vitra. After a successful two decades at 30 Clerkenwell Road, now is the time to move onto a new space that will house our vision for the future of the office. In the meantime, we look forward to welcoming our clients to our Vitra installation in Kings Cross from January 2021, and then later in the year to our new UK flagship showroom."
The UK flagship showroom will demonstrate the new Vitra Club Office concept, along with Vitra's response to the ever-changing office landscape. Further details to be announced soon.
Clerkenwell is the London district most associated with the UK's office design sector and each year is host to Clerkenwell Design Week, a major international event on the design calendar that plans to reopen in 2021 after the events of this year unfortunately forced its postponement.