February 23, 2022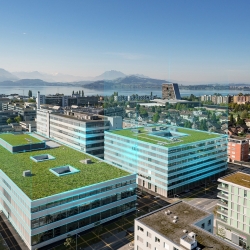 The world is in a race. And it's a race against time – against rising sea levels, overcrowded cities, and a virus that has shown us a thing or two about being adaptable. Although the current developments around infection rates and the omicron variant are cause for hope that the virus will soon become endemic, the experience of the last two years have emphasized something important: There is an urgent need to transform infrastructure across different dimensions – one of which is the physical space: the changing needs and expectations of people in their buildings, factories, facilities, offices and homes call for adaptability.
According to our thought leadership report "A New Space Race", already mentioned in one of my previous articles, some 60 percent of building owners and occupiers say that their organization is reducing its office space requirements in response to the pandemic. This is just one of many examples of how the demands are changing across the spaces we live and work in. Workplaces need to be flexible enough to cope with lockdowns or other events and homes need to make living, working and child supervision feasible in one place.
The adaptability of our physical surroundings takes centre stage in our race to become more resilient and flexible. And those at the heart of it all agree: The building owners surveyed in our report deemed future adaptability both the most important, and the most difficult, to get right, when designing a new building or facility. Especially in dynamic situations like the pandemic, but also with challenges like urbanization, being able to repurpose spaces to suit new kinds of occupants is becoming increasingly important – be it in terms of major reconfigurations or designing spaces that can change by the hour.
Adaptability through digitalization
But what about physical spaces that already exist and weren't created with future adaptability in mind? Luckily, being able to repurpose buildings or parts of them to suit new requirements is only one measure. The adaptability of spaces doesn't stop there. It is also about making our spaces adaptable within their current purpose – and that is something that we can not only do for newly-created buildings, but also for those that already exist.
Picture this: due to the pandemic, your office has been deserted for weeks, but with a sudden drop in infection rates, everyone is eager to return to work. With the right technology in place, the building can react to the surge in occupants and adjust the heating and airflow accordingly at a moment's notice. This doesn't just benefit you as an occupant. While you are enjoying the long-awaited reunion with your colleagues at the perfect room temperature, the building can make sure that no energy is wasted by only heating the spaces that are actually used.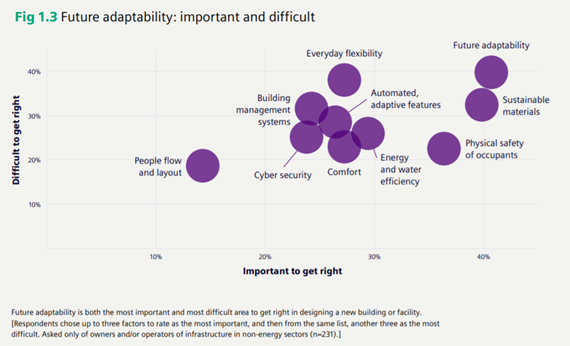 This is where smart technologies come in. With the help of digitalization, facility managers will not only be able to automate and remotely control more functionality, they will also benefit from a wider network of better sensors that flow into integrated visualizations and richer datasets. This will support a new level of fine-grained control and insights that are needed to make future buildings more resilient and flexible. And it will help us in our race for more sustainability. After all, digitalization can reduce the ecological footprint of a building by 80 percent.
This is why I would champion looking at growth mindset for infrastructure as well as on an individual level. If we combine our efforts to create an ecosystem of adaptable buildings, we will not only improve our wellbeing as their occupants but also do our part towards winning the race for a more sustainable future.