February 24, 2022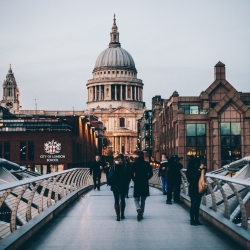 The latest data from XpertHR suggests that 44 percent of UK organisations are 'unsure' about the future of their location pay arrangements following the coronavirus pandemic and the subsequent shift to hybrid working. Location pay is currently offered by more than half of UK organisations (55 percent). Its most common form is a London allowance on top of basic pay (offered by 40 percent of organisations),with inner London employees receiving a median location payment of £3,775 (£3,250 in outer London).
Seven employers in 10 (69 percent) offer pay to compensate members of staff living in high-cost areas, while two-thirds (66 percent) say that it helps to keep salaries competitive. Despite the pivot to a remote, and now hybrid work environment, in the two years since the start of the pandemic four in five (79 percent) organisations have opted to make no alterations to their existing pay policy – perhaps because of its role in the recruitment and retention of staff.
Overall attitudes towards location pay are positive, with nearly nine in 10 (86 percent) rating it as effective in meeting organisational needs. The uncertainty from the remainder is rooted in how arrangements should be adapted to better reflect the post-restrictions workplace, or whether it needs adapting at all.
Options currently being considered by employers include changing allowances to be based on living location not work location, reviewing payments for employees who work remotely and have relocated away from the place that initially qualified for additional pay, incorporating the location element into salary, or removing the separate allowance.
"Remote working is here to stay, and because of its role in recruitment and retention of staff, so too is location pay," says Sheila Attwood, pay and reward editor at XpertHR. "With some employees no longer operating from the high-cost areas that originally qualified them for a location allowance, employers need to choose how to best adapt their offerings to reflect the current pandemic-influenced labour market.
"Transparency and consistency of any location pay changes is key, including clarity on why it is or is no longer being paid. Employers would benefit from benchmarking their location pay against the market so that it remains cost-effective and they avoid falling behind competitors."