December 2, 2019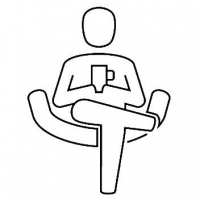 The vast majority (84 percent) of British workers are failing to achieve the necessary amount of physical activity recommended by the NHS to maintain their health and wellbeing. That is according to the third Wellbeing Index Report from health and wellbeing provider, Westfield Health.  The quarterly analysis focuses on the negative impact of desk jobs: over a quarter (26 per cent) spend a dangerous nine hours or more sat down; 65 per cent say they quite or very often sit continuously for one hour or more, clocking up an average of seven hours and two minutes every day.
The health risks of our sedentary lifestyles are well recognised. Prolonged inactivity is responsible for one in six UK deaths and studies have found that even when we exercise daily, we're still at risk of developing diseases such as type 2 Diabetes, heart disease and cancer if we sit down for more than six hours a day.
Although the Wellbeing Index claims that over 60 per cent of Brits are aware of the risks of a sedentary lifestyle, just 12 per cent say they are proactively trying to reduce the amount of time spent sitting down.
Lack of time (32 per cent), low energy levels (31 per cent) and low mood (25 per cent) were found to be the biggest barriers to moving more. When asked about basic fitness facilities at work, such as changing rooms and bike storage, almost half (47 per cent) of employees don't currently have access to any form of physical activity provision at work.
The study also revealed that people expect more from their employer: 67 per cent believe it's an employer's responsibility to support their physical wellbeing and fitness, yet around one in five say the support they're currently getting is below average or very poor.
An opportunity
Dave Capper, CEO of Westfield Health, believes employers have both the opportunity and responsibility to make workplaces more active. "When it comes to physical wellbeing, the Wellbeing Index shows it's not really a lack of awareness that's the problem – people know the risks of a sedentary lifestyle – it's a lack of responsibility;" he claims.
"As individuals, only 12 per cent of us are trying to reduce our sedentary time; as employers, we have to recognise just how much the structure of the work day and the office environment contribute to this escalating national health issue.
"We have to take action to protect our health and our businesses. To remain competitive at both a national and business level, we have to become more productive. That can only happen when you take good care of your team and create an environment where they can perform at their best."
The report showed that HR professionals do recognise the value of physical wellbeing: almost three quarters (74 per cent) agree that physical activity reduces absenteeism by reducing the number of sick days being taken, yet 44 per cent admit their company is not considering investing more in this area.
Capper added: "UK businesses spend up to 16 per cent of annual salary costs on absence and absence management. Yes, putting in showers, offering on-site classes or putting in an Active Space costs money, but the longer-term costs to individuals and companies of ignoring our physical wellbeing is so much higher."