March 14, 2017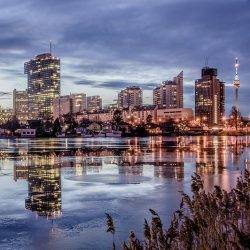 City infrastructure plays a key role when multinationals decide where to establish locations abroad and send expatriate workers, claims a new report. Mercer's 19th annual Quality of Living survey now includes a supplementary question on city infrastructure, as easy access to transportation, reliable electricity, and drinkable water are all important considerations when determining hardship allowances based on differences between a given assignee's home and host locations. Western European cities hold most of the top ten places in the city infrastructure ranking, with Frankfurt and Munich jointly ranking 2nd worldwide, followed by Copenhagen (4) and Dusseldorf (5). London is in 6th place, and Hamburg and Zurich both rank 9th. However, in terms of quality of living which is ranked separately, Vienna (pictured) occupies first place for overall quality of living for the 8th year running, and despite increased political and financial volatility in Europe, many of its cities offer the world's highest quality of living and remain attractive destinations for expanding business operations and sending expatriates on assignment. In the UK, London is favoured for its overall quality of living and for its city infrastructure.
After Vienna, in terms of quality of life, the top-ten list is mostly filled by European cities: Zurich is in second place, with Munich (4), Dusseldorf (6), Frankfurt (7), Geneva (8), Copenhagen (9), and Basel, a newcomer to the list, in 10th place. The only non-European cities in the top ten are Auckland (3) and Vancouver (5). The highest ranking cities in Asia and Latin America are Singapore (25) and Montevideo (79), respectively.
Mercer's city infrastructure ranking assesses each city's supply of electricity, drinking water, telephone and mail services, and public transportation as well as traffic congestion and the range of international flights available from local airports. Singapore tops the city infrastructure ranking, followed by Frankfurt and Munich both in 2nd place.
"Economic instability, social unrest, and growing political upheaval all add to the complex challenge multinational companies face when analysing quality of living for their expatriate workforce," said Ilya Bonic, Senior Partner and President of Mercer's Career business. "For multinationals and governments it is vital to have quality of living information that is accurate, detailed, and reliable. It not only enables these employers to compensate employees appropriately, but it also provides a planning benchmark and insights into the often-sensitive operational environment that surrounds their workforce.
"In uncertain times, organisations that plan to establish themselves and send staff to a new location should ensure they get a complete picture of the city, including its viability as a business location and its attractiveness to key talent," Mr Bonic added.
Most European cities remained stable in the ranking, with the exception of Brussels (27), dropping six places because of terrorism-related security issues, and Rome (57), down four places due to its waste-removal issues. Finally, Istanbul fell from 122nd to 133rd place as a result of the severe political turmoil in Turkey during the past year. The lowest ranking cities in Europe are St. Petersburg and Tirana (both ranked 176), along with Minsk (189).
"All UK cities remain attractive locations for multinational companies and their employees as they continue to rank highly for quality of living," said Kate Fitzpatrick, Mercer's Global Mobility Practice Leader for the UK & Ireland. "London leads the pack in both the overall quality of living and this year's supplementary city infrastructure ranking, with its multiple international airports and a large and comprehensive public transport network. The capital's only downfall in regard to infrastructure is heavy traffic congestion, which also contributes to the city's low score for air quality and pollution.
"Mercer will continue to closely monitor any impact of the upcoming Brexit negotiations on the quality of living in UK and European cities overall, in order to support multinational companies as they assess the best locations to attract the skilled workforce they require."