November 5, 2013
The results of a competition designed to showcase the Workplace of the Future, sponsored by Staples have been announced. The contest, run in conjunction with US based Metropolis magazine, attracted entries from some 200 architects and interior designers. The winner was Joe Filippelli, who created Vertical Flux, which is described as 'a comfort-based approach to the 2020 workplace with fluctuating atmospheres'. The runner-up was CoLab from Rotterdam based Eckhart Interior Design with a 'digital re-envisioning of the classic corporate office… which incorporates technology in a way that allows employees to work at any location throughout the office, collaborating with co-workers in any imaginable configuration.'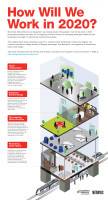 The organisers summarise the general focus of the issues addressed by the entries as:
Reclaiming urban space: Capitalizing on vacant building spaces in cities to provide workplaces for businesses, travelling workers and anyone in need of a productive work environment.
Re-imagining office furniture: Rethinking the way furniture is designed to facilitate mobile, pop-up workstations with self-sufficient, self-powering capabilities and interactive technology interfaces.
 Employee-centric design: Creating all-encompassing workplace environments  that consider comfort, sustainability and health of employees.
Hyper-collaboration: Pushing workspace layouts beyond conventional collaborative models to focus on interdisciplinary, multi-company and multifunctional arrangements that take the co-working trend to the next level.
The winner, Joe Filippelli was awarded $7,500 for the Vertical Flux concept that 'radically re-imagines office space as a series of atmospheres where occupant comfort and health are at the forefront. This new approach focuses on thermal comfort made possible by advances in technology, as well as natural properties of temperature and light, to create fluctuating environments and comfort zones.'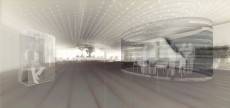 The features of the winning design (pictured above) include:
Radiant heating and cooling
A solar-powered fibre-optic ceiling that fluctuates in colour and intensity
Thermally active furniture with touch screen capabilities
Multiple varieties of plant life local to each climactic zone in the building
"By thinking of light, temperature, and air as building materials, architects/designers can rethink the typical static office environment and put the worker's individual comfort into the foreground," said Filippelli. "I believe staging the office as a gradient, providing opportunities for both privacy and collaboration in a variety of atmospheric conditions, will be a significant element in future workplace design."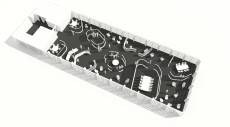 As for CoLab by Eckhardt (left), the basic element of the design is a described as a 'modular partition system that functions as a physical and acoustic separation, interface and display. This scalable partition system, which can create team rooms, meeting rooms, board rooms, individual work booths, privacy spots and informal meeting places, includes cutting-edge technology elements that allow for seamless connectivity and integration.'
More information on the winning entries and another ten shortlisted submissions can be seen here.