September 28, 2022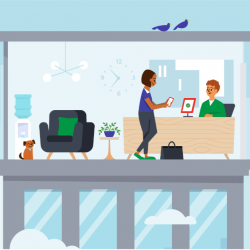 Although workers think that their work location doesn't matter, a new poll suggests that their bosses don't agree. In the poll of US employees from workplace platform Envoy, 96 percent of respondents described as leaders say they take more notice of people's work contributions when they are in the office. Just 42 percent of respondents described as employees agree. Gen Z employees, more than any other generation, value workplace visibility, with 73 percent believing their contributions are noticed more in-office than at home. Only 64 percent of Millennials, 53 percent of Gen X, and 45 percent of Boomers feel the same. Among executives, women are more likely than men to recognise work and contributions accomplished from home.
What employees and leaders do agree on according to the At Work survey, is that there's power in gathering at the office a few times a week to collaborate, share and problem-solve. 76 percent of office workers say being in the office is good for their mental well-being. Most leaders (94 percent) and employees (84 percent) feel that office work life provides a sense of community. In-person touchpoints are helping develop rapport, which builds stronger relationships for better cross-functional work.
Other findings:
Employees agree that the most important outcome when working in the office is productivity. Executives are split.
When asked which is the most important result when working in an office, productivity or building relationships with coworkers, over two-thirds of employees (67 percent) chose productivity. Only 56 percent of executives agreed.
Executives are split on the issue. 44 percent of leaders see relationship building as the priority which could reflect varying company values.
Female executives, younger executives, and those newer in their position are more likely to say productivity is the most important outcome.

67 percent of women executives think productivity is more important than relationship building while only 52 percent of their male counterparts think likewise.
64 percent of executives under 40 think productivity is more important compared with 51 percent who are over 40.
66 percent of director-level leaders versus 51 percent of C-suite executives think productivity is more important.
Employees worry about traditional workplace taboos – but leaders say most no longer apply.
In the past, certain office activities were forbidden, either explicitly or presumed. Today, employees perceive activities like taking sick days or dressing casually as still on the corporate no-no list. But leaders are more accommodating these days than employees think.
Over half (53 percent) of employees say there's a stigma around leaving the office early. However, over two-thirds of executives (68 percent) wouldn't view it negatively.
58 percent of employees feel bringing a pet to your workplace would be viewed poorly by managers; 66 percent of leaders disagree.
Even running personal errands during the workday is considered fine with most leadership. Only 38 percent would frown upon it; however, 50 percent of employees say differently.
The number one taboo for both leaders (48 percent) and employees (68 percent) is surfing the internet at work or watching videos online.
The only stigma that executives view more negatively than employees is taking lunch breaks outside the office. Only 8 percent of employees feel this would be considered a no-no compared with 21 percent of executives.
Long commutes continue to top the list of workplace dealbreakers.
The biggest workplace deal breakers for employees are long commutes (47 percent) and chatty coworkers (37 percent). Slow or outdated technology cited by 36 percent of employees edged out lack of flexibility as the top three concerns.
Leaders correctly guessed their employees' top concern: long or expensive commutes (36 percent). But they slightly missed the mark when they cited lack of flexibility (32 percent), slow technology (30 percent) and going into the office and finding out the colleagues you need to collaborate with are not coming in (30 percent) as the next highest-ranking dealbreakers for employees.
In reality, executives underestimate the impact outdated technology and chatty or difficult coworkers have on employees. Yet they overemphasize the impact of opportunities to socialize with coworkers and free food.
Leaders find it much easier than employees to leave work at work
When working in an office, 63 percent of executives feel it's easier to leave work behind compared to working from home.
Only 39 percent of employees find it easier. 28 percent consider it more difficult to sign off.
Despite what leaders may believe about being able to 'turn work off' after leaving the office, employees still find it difficult to maintain a healthy work life balance when working from the office.