November 6, 2018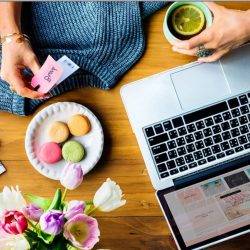 A new study published by GoDaddy and the Centre for Economics and Business Research (Cebr), claims that 'side hustling', in which people have small business ventures running alongside their main job, has risen by around a third over the last decade. The study claims that the UK's side hustlers make a substantial contribution to the economy, with every 1000 side hustles creating 876 extra jobs. The report, Side hustle: a way of life, not work also claims that 44 percent of side hustlers are parents with at least one child under 19 living at home.
Digital Mums co-founder, Kathryn Tyler, started the business that digitally upskills women as a side hustle: "My motivation to set up my own side hustle was to grow something that I was passionate about and, crucially, in control of. More and more, I am seeing the parents we work with looking to achieve a better life balance and pursue their creative passions."
According to the report, the side hustling trend has allowed people to pursue their passions on top of their 9-5 work, with almost half of side hustlers (48 percent) spending less than five hours a week on their side hustle.
Previous research released by GoDaddy claimed that the majority (56 percent) of employees with a "side hustle" make £500 – £5,000 in extra income per year and 48 percent of employees started their "side hustle" to develop a passion or hobby. In further evidence of the growing movement, Google Trends shows that there has been a 62 percent increase in "side hustle" as a search term in the UK compared to last year.
Irana Wasti, SVP & Head of GoDaddy EMEA said: "Side hustlers are here to stay – these people all have their own ideas, their own motivations and are pursuing the passions they love. They have an irrepressible scratch that needs itching. People who pursue their business passions on top of their 9-5 often bring a unique perspective to the office and can challenge us to be more creative and entrepreneurial."