April 6, 2020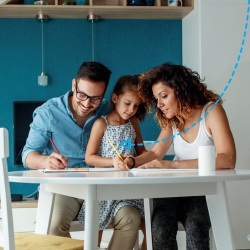 A new report from work-life balance charity Working Families claims that there remains a pressing need for increased support for working parents during the COVID-19 pandemic. The report is informed by queries to the charity's free legal advice helpline, which the charity says have quadrupled since the start of the pandemic. Since mid-March, over 36,000 people have accessed the charity's coronavirus-focused legal advice web pages.
The report claims to highlight the ongoing challenges working parents are facing as a result of COVID-19, which greatly increased when schools and childcare settings were closed on 20 March 2020. Many parents are being forced to take unpaid leave or are losing their jobs, bringing economic uncertainty and hardship at the worst possible time.
Below is a summary of the ongoing issues and the charity's recommendations to the government for going further in supporting working parents during this pandemic:
Furlough: Currently, the Job Retention Scheme is for is for employers whose operations have been affected by COVID-19. The government needs to provide clear guidance that employers can 'furlough' (i.e. seek reimbursement of 80% of wages, up to £2,500 a month) parents whose childcare commitments make working from home impossible. Otherwise, parents will have to rely on unpaid leave and benefits.
Reduced-hours Working: Currently, employers do not have an option to 'top up' the income of parents who may have reduced their hours because they are caring for their children, too.  We're urging the government to explore options enabling employers that need to, to claim for the hours parents can't work, so they aren't disadvantaged compared to furloughed employees who aren't working at all.
Social Security: Clearly, not all employers will be able to support parents to work at home or make use of 'furloughing'. So, we're calling for a significant uplift in Child Benefit payments for the duration of the pandemic—for existing and new claimants – to capture parents who have taken unpaid leave or been dismissed as a result of COVID-19.
Pregnancy and Maternity: Pregnant women have been told by the government that they may be particularly vulnerable to COVID-19. The charity has received a raft of enquiries about this, particularly from pregnant women unable to work from home. The government must make it clear that, where this isn't possible, employers should be suspending pregnant women on full pay until their maternity leave starts.
In separate news, Working Families has announced the shortlist for its 2020 Best Practice Awards. The awards celebrate employers whose stand-out cultures and working practices are leading the way in flexible and employee-friendly workplaces.
The shortlisted organisations are:
Best for Mothers?– sponsored by Arnold Clark?
CDC Group
Experian
Royal Air Force
Best for Fathers – sponsored by Nationwide
Aviva
Unibail-Rodamco-Westfield
Zurich Insurance
Best for Carers & Eldercare – sponsored by Crown Prosecution Service
Centrica
Civil Service
Nationwide
Best Family Network
Barclays
British Army
Royal Bank of Scotland
Santander
Best for Mental Health & Wellbeing – sponsored by Schroders?
Bank of England
Crown Prosecution Service
Wates
Best Innovation
Pinsent Mason
Royal Air Force
Best for Flexible Working – sponsored by Schroders
Civil Service
Hill Dickinson
Pitney Bowes
Royal Air Force
Zurich Insurance
Best Returner Programme
Essex County Council with Capita Resourcing
UBS
Best Small Private Sector Employer
ILF Scotland