November 13, 2013
This year's Workplace Week  which took place last week was a great success, with more people participating and more money raised for charity. Across the week, over 500 people took part, visiting innovative workplaces, attending the Workplace Week Convention or going along to one of the many Fringe events. Workplace Week is organised by Advanced Workplace Associates and supported by CoreNet Global, BCS, RICS, FMA and BIFM. All proceeds go to the Children in Need charity. Around 60 people joined the speakers at the headquarters of PWC on London's Southbank for the Workplace Week Convention to discuss 'Driving productivity through the connected organisation.' The informal atmosphere and roundtable format encouraged participation, with a focus on developments in organisational design, change management and technology.
Keith Saxton, head of financial services research at IBM, described the "perfect storm" created by the confluence of social, mobile, cloud, big data and analytics. We're entering a new era of the "contextual enterprise," he said, where cognitive systems understand language, process evidence and handle interaction. This could have profound implications for the workplace where the challenge is to foster interaction and ensure expert knowledge is shared.
Roland Openshaw took the audience through social network analysis (SNA), a technique to understand how people are connecting and interacting across organisations. The number of "relationships" team members have with other team members is a reliable predictor of team performance. But it's not just about the number of relationships – silos are bad for performance, you really need cross-disciplinary communication.
In a change from the usual conference format, Louise Marshall, head of infrastructure & services at electronics company Brother, led a group exercise in organisation and workplace change. Delegates discussed how they would shift the company from the old style, hierarchical model to a more agile organisation. What would we do first? How long will it take? What behaviours would we encourage or discourage?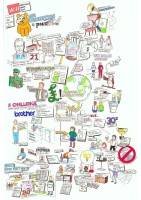 As the groups presented, artist, writer and commentator on the world of work Simon Heath captured the comments with the illustration, left. In fact Brother went through the transition 18 months ago, as Phil Jones, a young, British MD with a background in sales & marketing and a vision of a more entrepreneurial and agile organisation, took the helm. He'd discovered the Kinetic Organisation model propounded by AWA's Andrew Mawson and it resonated with his vision.
Several speakers looked at the way people respond to change as organisations move to more agile and connected working. Andrew Mawson described AWAs' Kinetic Organisation research, explaining that the goal is a "fluid" organisation, not one that simply shifts from one state of 'stability' to another.
Jessica Pryce-Jones of the iOpener Institute talked about the Science of Happiness, distinguishing between short-term "emotional happiness" and "mindset happiness" which she said is relatively stable. Pryce-Jones said the business case for considering happiness at work included how energised and focused on the task staff feel, as well as retention and sickness. Liz Nottingham, regional HR director Starcom Mediavest, considered how to attract, inspire and retain talent, particularly women, in the connected organisation. It's about understanding what people are looking for at different phases in their career, she said.
"The truly connected organisation will only be achieved through the cooperation of all those involved in managing space, people and technology," said Andrew Mawson, speaking after the event. "The idea of the Convention is to bring together people with a different take on the workplace and to build bridges between professions and disciplines.
The programme of workplace visits is a unique part of Workplace Week – an opportunity to see innovation at first-hand and to talk to the people making it happen. With thirteen to choose from, over 150 people joined a visit – from the headquarters of Innocent Drinks in London to the BBC's Media City base in Salford. Highlights included Network Rail's cluster of four buildings in Milton Keynes sharing an enclosed cafe culture "street" (left). The location supports around 3,000 staff based there, plus another 6,000 using it when their jobs bring them to MK.
The change to agile working takes a while to achieve and embed within working practices, a sentiment reinforced by the visiting group – some of whom recognised that management attitudes in their organisations would require a big shift to embrace a "work away from your desk" culture.
KPMG in Canary Wharf provides 15 storeys of accommodation supporting its professional office workers, using agile working techniques. The consultancy moved to the building about three years ago, originally planning for 4,000 staff. The office now has 5,200 occupiers, half with allocated desks and the rest working flexibly.
Workplace manager Matt Dunk said: "If we hadn't changed the way we were working we would have needed another eight floors of the building." The Workplace Week visitors were impressed with the high quality fit out and the range of flexible facilities for both clients and staff.
Workplace Week raised an estimated £11,500 for BBC Children in Need. Andrew Mawson of organisers AWA said: " Workplace Week shows what can be achieved when people come together to share experience and knowledge and to have fun! I'd like to thank all those who hosted visits; all our speakers; our Convention hosts PWC; our Fringe event organisers; our supporters and everyone who took part and contributed so generously."
___________________________________________________

Richard Byatt is a writer on workplace and facilities management issues