April 21, 2015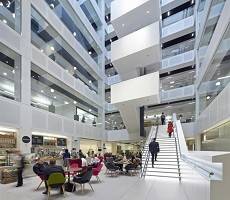 Plans have been unveiled to double the amount of money raised for BBC Children in Need at this year's Workplace Week, the week-long showcase of workplace innovation. Last year's event, which saw more than 100 people attend the workplace tours, day-long convention and fringe events, raised over £13,000. Andrew Mawson, MD of workplace consultancy AWA, and the brains behind the venture, which is now in its sixth year, has set a target of £25,000. To achieve this aim, the number of workplace tours will be doubled, which this year shall include PWC, [pictured] Mintel and the Guardian. Capacity will be increased at the convention, with a small number of paid-for exhibitors and programme advertising allowed. Organisations from the built environment will be encouraged to arrange relevant Fringe events ­– breakfast or lunchtime seminars, or evening sessions to take place during the week – for which they'll pay a small donation.
Said Mawson: "Last year was our best year yet, but we want to raise the bar even further and encourage as many people as possible to join in with some of the numerous activities taking place, as well as being inspired by innovation in the workplace."
This year's Workplace Week takes place between 9th and 13 November 2015, with the convention being held on Thursday 12 November at KPMG's Canary Wharf office with the title 'Joining the Dots….putting the workplace at the heart of UK productivity'.
More than 10 workplaces have already signed up to showcase their innovative spaces through 90-minute tours, including: Innocent Drinks, Guardian Newspapers, Mintel, Lloyds of London, BDO, and the CBI. More big-name participants will be announced over the coming months. There are only 16 places available on each tour so delegates are advised to book early by visiting workplaceweek.com/workplace-visits/
The inaugural Workplace Week in 2009 happened after Mawson watched BBC Children in Need and had the idea for a workplace-related event raising money for the charity.
"Workplace Week has fast become an absolute must in the professional calendar since AWA launched the first one in 2009. Through fantastic support from sponsors and everyone who has participated in the last few years we have raised a whopping amount for Children in Need," said Mawson.
Workplace Week 2015 is supported by the Chartered Institute of Personnel and Development, the British Institute of Facilities Management, the Building Futures Goup, CoreNet UK, the Chartered Institute of Building and i-FM.
To take part in Workplace Week 2015 or get involved visit www.workplaceweek.com